End of Bull Run in U.S. Stocks Poses Threat to Emerging Markets
(Bloomberg) -- It's as if the game were rigged. When U.S. equities rallied earlier this year, emerging-market stocks fell, and when U.S. equities declined in the past month, their developing-nation counterparts tumbled even more.
As U.S. stocks threaten to end a decade-long bull market, the outlook is growing worse for emerging markets, according to Morgan Stanley strategists led by James Lord and Simon Waever. The firm's cross-asset team is underweight developing-nation shares.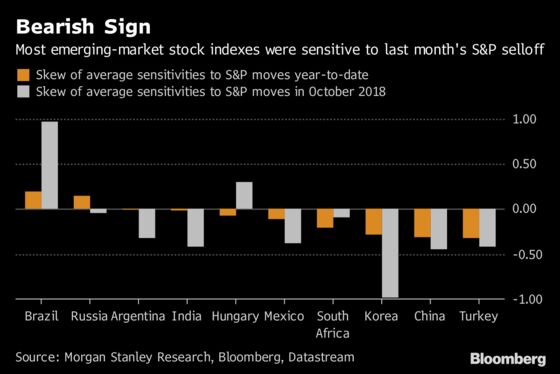 "Risk off in the S&P means risk off everywhere," said Anastasia Levashova, a fund manager at Blackfriars Asset Management in London. "Any profit-taking in U.S. stocks means a run into the dollar and selling EM currencies and stocks."
Last month, when the S&P 500 Index slid 6.9 percent in its worst monthly decline since September 2011, 15 of the 17 emerging-market equity indexes tracked by Morgan Stanley also fell. Only shares from Brazil and Hungary showed resilience.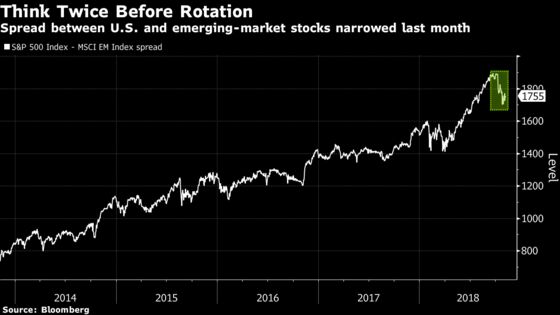 It was a similar story for currencies, with the noticeable exceptions of the Argentine peso, the Turkish lira and Brazilian real. Levashova said they have a temporary advantage after posting some of the world's biggest losses earlier in the year, driven by domestic headlines. At current valuations, they're potential havens in the event of a gradual slide in U.S. stocks, she said.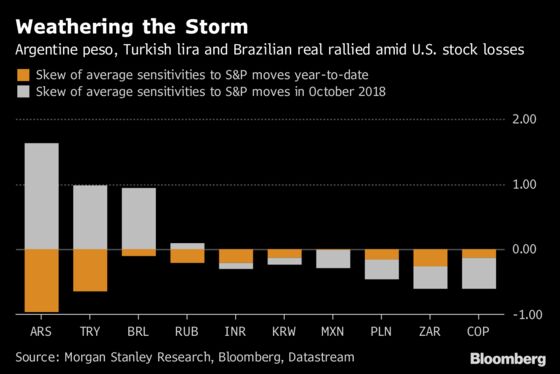 "If it's a panic selloff, they will all tank," Levashova said.