Emerging Markets to Retake the Lead in 2019 Helped by Fed Pause
(Bloomberg) -- A pause in the Federal Reserve's interest rate hiking cycle, a weaker dollar and softer oil prices will ease external pressures on emerging markets in 2019, reversing a theme that dominated this year.
"The growth differential will swing back in favor of emerging markets, which will resume the mantle of growth leadership," analysts led by Chetan Ahya, chief economist and global head of economics at Morgan Stanley, wrote in their outlook for the year ahead.
Three divergences shape that view; slowing growth in developed economies as emerging economies stabilize; tighter labor markets seeing core inflation at new cycle highs in developed economies while staying low elsewhere; and a pause by the Fed while peers such as the European Central Bank seek to normalize policy.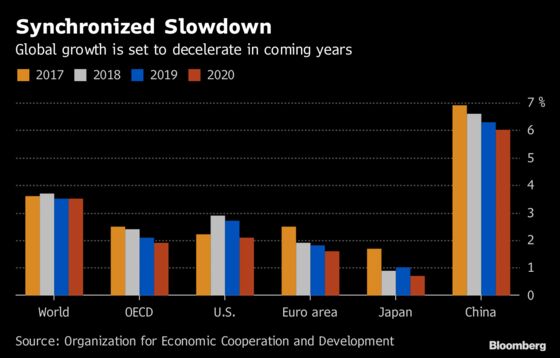 "We expect DM growth to slow as we move through the year, given tighter labor markets, fading fiscal stimulus in the U.S. and also the impact from withdrawal of monetary accommodation," according to Morgan Stanley. "In EMs, growth will hold up relatively well as external headwinds recede."
Risks to their outlook include U.S. corporate credit, ongoing trade tensions, dollar strength and policy uncertainty.
"Given that the cycle is maturing, we see risks skewed to the downside, with a possibility of a global recession in our bear case," the economists wrote.