Emerging Markets Cut Rates With Russia Following Turkey, Brazil
Emerging markets from Russia to Turkey are cutting interest rates, providing a potential fillip to the global economy as the Federal Reserve holds off easing monetary policy further.
The Bank of Russia on Friday delivered a fifth consecutive reduction and said it would consider more action in the first half of next year as inflation continues to fall below target.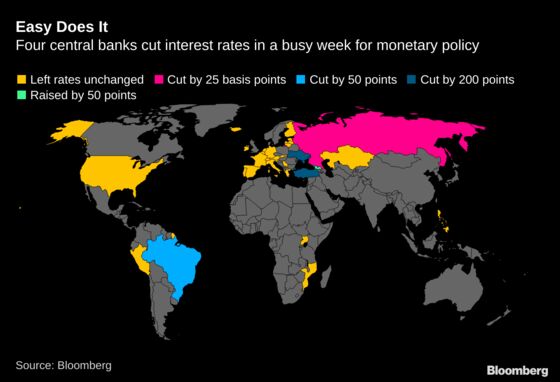 The embrace of looser monetary policy in emerging markets shows how most of them still enjoy the firepower to support demand as their peers from the U.S. and euro area take to the sidelines in part because of concern they lack the scope to cut more.
Economists at Commerzbank and Citigroup are among those to have recently said that emerging markets have more fiscal and monetary space than their richer counterparts, and that they are likely to use it next year.

They may have to act because the low inflation that has plagued rich economies is now being witnessed in emerging markets typically used to soaring prices. The International Monetary Fund predicts consumer prices will rise 4.8% in emerging and developing markets next year, down from 7% in 2011.

"Our forecast is for emerging market monetary policy to remain loose and we have more fiscal easing pencilled in," Citigroup economists said in a Dec. 10 report to clients.

Russia pared its key rate by 25 basis points, taking this year's total reduction to 150 basis points. The central bank slightly tweaked its language about future easing, saying it will consider cuts "in the first half of 2020" instead of "at one of the next meetings."
Emboldened by lira stability and egged on by President Recep Tayyip Erdogan's calls for more aggressive easing, Turkey's decision to lower its benchmark to 12% -- a deeper cut than forecast by most economists.
As for Brazil, its central bank left its options open for the next meeting even though many analysts had expected it to signal an end to its easing cycle.
Ukraine reduced its main rate to 13.5%, the lowest in more than two years, after the government struck a preliminary deal for a new $5.5 billion loan from the International Monetary Fund.
Mexico may join the action next week with economists predicting it will cut by a quarter point to 7.25%.