Emerging-Market Reprieve Stirs Burning Question: Will It Last?
(Bloomberg) -- Emerging-market investors are assessing if it's time to buy in the fourth quarter, after currencies strengthened in September and implied volatility sank by the most in five years. A slew of inflation data and central-bank decisions this week may help them to decide.
Turkey's inflation data due Wednesday will likely set the tone for the market, as consumer prices probably accelerated in September following the lira's summer meltdown and a jump in oil prices. All eyes will also be on Reserve Bank of India, which will decide on interest rates on Friday after its counterparts in Indonesia and the Philippines tightened.
In Brazil, traders are on edge as a raucous presidential race enters its final week, with major polls set for release on Monday and Tuesday and the first round of voting on Sunday. There's some relief for investors of Mexican assets on Monday, after the U.S. and Canada agreed to a trade deal with Mexico.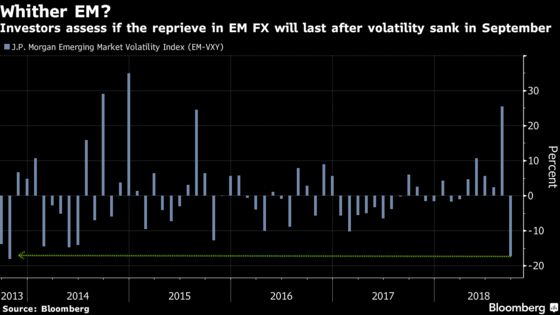 As the broader picture for riskier assets will also depend on the outlook for the dollar, U.S. employment data at the end of the week will be key. Fidelity International's Paul Greer said he only would turn more positive on emerging markets should there be an about-turn in the Federal Reserve's policy path or any "meaningful fiscal loosening" in China.
"We maintain our cautious outlook on the asset class going into the fourth quarter, mindful of global liquidity tightening," said Greer, a money manager based in London. "We also view the U.S. dollar as undervalued based on growth and interest-rate differentials between the U.S. and the rest of the world, while U.S.-Sino trade tensions will remain a headwind to EM growth momentum."
Listen here: Emerging Markets Weekly Podcast
Developing-nation currencies climbed 0.6 percent in September, after slumping 7.5 percent in the previous five months. Expected swings in emerging-market currencies fell in September by the most since 2013 to the lowest level in almost two months, according to a JPMorgan Chase & Co. gauge. The lira, which touched an all-time low in August, outperformed all of its peers last month as investors searched for bargains.
Inflation probably accelerated 21.1 percent last month from 17.9 percent in August, according to economists' median estimate
Citigroup took profit on its long Turkish bond-call as the upside risks to inflation data may offer "better opportunities to establish new longs," with positive geopolitical news priced in
Thailand, Indonesia, Colombia, the Philippines, Poland, Peru, Brazil, South Korea will also release inflation data
RBI will probably raise its repurchase rates by 25 basis points to 6.75 percent, according to a Bloomberg survey of economists. The central bank and the government took steps last month to boost liquidity and support the rupee
"While we do not expect the RBI to defend the currency by raising rates, we see the weaker external position continuing to put pressure on the rupee," Australia and New Zealand Banking Group Ltd. analysts including Khoon Goh wrote in a note. The bank tweaked its year-end forecast on the rupee to 74 per dollar from 71 at the end of August. The currency was the worst performer in Asia in the third quarter
Elsewhere, Poland, Romania, Mexico, Sri Lanka will also decide on rates this week
Trading in the real has been choppy and historical volatility is higher than during the past three elections, comparing only to 2002, when Luiz Inacio Lula da Silva was first elected. That reflects a highly polarized race: front-runner Jair Bolsonaro, a far-right former army captain, is battling Fernando Haddad, the heir of leftist icon Lula. Polls show Haddad would win a runoff if needed later in the month
The real, which slid this year despite a September rebound, has been a focus for swap traders as they assess its potential impact on inflation. One clue will come Friday, when data on this month's consumer prices are scheduled for release. The central bank says it could start gradually removing its accommodative policy if inflation risks rise
Argentine peso traders can't lower their guard this week as a new currency regime -- a condition of an expanded International Monetary Fund bailout -- rolls into place. The central bank says it won't intervene within a band of 34 to 44 pesos per dollar and say it can spend $150 million if the peso drifts outside that zone
The central bank will host a meeting with market participants Monday to explain the details of its monetary policy and currency band, according to two people with direct knowledge
The peso dropped about 30 percent in the third quarter, the most among emerging markets, and some traders were skeptical of the new limit, saying it may not suffice if there's a local market shock or wider run on developing nations
The new IMF program also imposes more fiscal discipline, which is expected to slow GDP growth, making Tuesday's release of the central bank's monthly survey of economic expectations all the more important
The Mexican peso advanced as the U.S. and Canada agreed to a Nafta replacement that includes Mexico, setting the stage for their leaders to sign the accord by the end of November. Lawmakers from the three countries still need to approve the pact
Mexican Economy Ministry plans to publish text of its trade deal with the U.S. to its website around the time that Minister Ildefonso Guajardo's deputy, Juan Carlos Baker, delivers it to the Senate, according to three people familiar with the plans, who asked not to be identified before the release
As trade tensions between China and the U.S. escalate, traders may get some relief as the Asian country enters its week-long holiday. The yuan dropped the most in more than three years against a basket of trading partners in the third quarter
Two gauges of activity in China's manufacturing sector worsened in September, reflecting the nation's economic slowdown and the fallout from the trade war with the U.S.
The central bank said on Saturday it will maintain a prudent and neutral monetary policy while also assuring reasonable and ample liquidity
While the People's Bank of China is on an easing path, it continues to support the yuan through suspected foreign exchange intervention -- as seemed to have occurred Friday to stop the dollar rising through 6.90 yuan - and through fixing the onshore daily exchange rate's central parity stronger via its counter-cyclical buffer, according to NatWest Markets. But the risk remains that slowing growth, weaker exports and easier monetary policy will push the yuan through 7 per dollar over the next few months, said Mansoor Mohi-uddin, the firm's head of foreign-exchange strategy in Singapore
The Republic of Macedonia held a referendum on Sunday over whether to rename the country and settle a 27-year-old row with Greece that has blocked it from joining the European Union and North Atlantic Treaty Organization
The vote will be "relevant for bond prices in Macedonia," said Greer at Fidelity International
A number of Asian countries announced their PMI manufacturing numbers on Monday
South Korea reported trade data on Monday, while Malaysia will do its own on Friday
Indonesia will also be releasing its foreign reserve data for September on Friday. The country has been ramping up efforts to shield the rupiah from a global rout that's rattling emerging markets, including raising interest rates, draining foreign reserves and introducing hedging tools