Fidelity's Greer Buys EM Bonds as Markets Overprice Rate Hikes
(Bloomberg) -- Fidelity International Ltd.'s money manager is diving back into emerging-market bonds, after shunning them for most of the year, as easing inflation raises their appeal.
"For the first seven months of this year, the market has been obsessed with inflation," Paul Greer, a London-based money manager at Fidelity, said in an interview. "From here on, the narrative is going to move toward inflation is transitory, he said, adding that "It is time to start building positions again."
Developing nations are likely to ease off on rate hikes this year due to lower commodity and food costs in the coming months, according to Greer. His $2.7 billion Emerging Market Debt fund has already handed investors a return of more than 5.8% this year, beating 95% of its peers. In contrast, a Bloomberg gauge of emerging-markets bond performance has dropped 0.2%.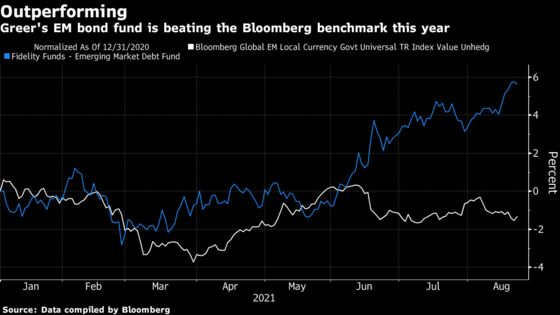 The "market is assuming too many interest-rate hikes," Greer said. "All of these point toward an attractive proposition in local yields." He favors 10-year notes from Russia and South Africa and 30-year securities from Mexico. In Asia, he prefers Indonesian debt.
Greer joins funds like HSBC Global Asset Management in buying emerging-market debt as they're already pricing in a stimulus rollback by the Federal Reserve. That means a repeat of the so-called 2013 taper tantrum is unlikely, where a surprise Fed announcement on tapering stimulus fueled the biggest loss in emerging-market bonds since the global financial crisis.
Fed Chairman Jerome Powell said on Friday that the central bank could begin reducing its monthly bond purchases this year, though it won't be in a hurry to begin raising interest rates thereafter.
While emerging-market economies are recovering from the virus-led slump at varying speeds, the delta coronavirus variant continues to be an overhang. 
Data on Tuesday showed a gauge of China's services sector contracted for the first time since the initial virus cases in the first quarter last year. A slowdown in China, the world's second-largest economy, is expected to further weigh on the region's growth due to its extensive trade links. 
"I am a bit concerned over growth expectations in emerging markets over the next 6 to 12 months," Greer said. "The first thing that is going to happen is those interest-rate hikes will be priced off."
However, there are exceptions. 
Greer said he's bearish on Poland as he expects inflation there to remain "very high" until next year. "The longer that they wait before hiking interest rates, the more dangerous it gets for the Polish economy in terms of overheating and the Polish bond market," he said. 
The fund is neutral on Chinese government bonds as returns on the notes rose to more than 5% this year. Greer said he has taken profits on China, and now sees better value in other emerging nations.