Biden's Victory Triggers Largest EM ETFs Inflows in 10 Months
(Bloomberg) -- Investors added the most money to emerging-market exchange-traded funds in 10 months as Joe Biden's victory in the U.S. election boosted investor appetite for risk assets.
U.S.-listed ETFs that invest across developing nations as well as those that target specific countries received $2.36 billion in net flows in the week ended Nov. 6, compared with losses of $101.3 million in the previous week, according to data compiled by Bloomberg. That was the biggest weekly inflow since Jan. 17 and it helped trim year-to-date outflows to $10.4 billion.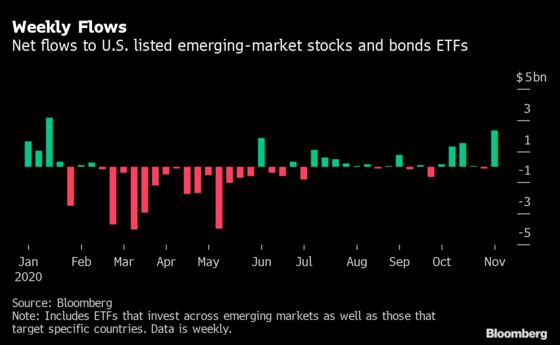 Inflows were led by the second biggest emerging-market stocks ETF, the $58.9 billion iShares Core MSCI Emerging Markets ETF, or IEMG, which received $932 million, the most for a week since December. The other big contribution came from the bonds side: the $18.3 billion iShares JP Morgan USD Emerging Markets Bond ETF, known as EMB, posted a $768 million inflow, the largest since June.
On a country level, the biggest beneficiary was China, which has the largest weighting in the top funds. The nation's assets also got money through the $3.8 billion KraneShares CSI China Internet ETF, or KWEB, which received $189 million, the most since January.
Developing-nation stocks climbed to the highest level in more than two years last week, propelled by the prospect of a Biden victory. The Democrat candidate, who pledged to unify the nation this weekend, is expected to come up with a fiscal stimulus package that would boost the amount of dollars in the global economy, increasing demand for risk assets.
Stock ETFs expanded by $1.64 billion.
Bond funds rose by $715.8 million.
Total assets rose to $273.8 billion from $255.9 billion.
The MSCI Emerging Markets Index closed up 6.6

percent

from the previous week at 1,176.36 points, the highest level since Apr 19, 2018.
China/Hong Kong had the biggest inflow, of $842.3 million, led by iShares Core MSCI Emerging Markets.
No individual country suffered an outflow.
Click here for Bloomberg's ETF screening applications.
Following are tables detailing net flows for emerging-market ETFs in US dollars. The data include the holdings-weighted allocations from multi-country funds, as well as country-specific funds(figures in USD millions unless otherwise stated):
Region
Flow Week
Equity Flow
Bond Flow
Total Assets (USD

Bln

)
Total EM
2,355.9
1,640.1
715.8
273.8
Americas
353.7
122.2
231.6
31.7
Asia Pac
1,476.3
1,337.5
138.8
202.1
EMEA
525.9
180.5
345.4
40.0
Click here for Bloomberg's ETF Excel library.
| Country | Flow Week | Equity Flow | Bond Flow | Total Assets |
| --- | --- | --- | --- | --- |
| Mexico | 109.5 | 65.9 | 43.6 | 6,369.7 |
| Brazil | 65.6 | 38.0 | 27.6 | 17,295.1 |
| Chile | 34.9 | 11.0 | 24.0 | 2,491.0 |
| Colombia | 29.8 | 1.4 | 28.4 | 1,543.1 |
| Panama | 25.9 | 0.0 | 25.9 | 747.0 |
| Peru | 24.9 | 2.4 | 22.5 | 1,185.4 |
| Uruguay | 19.1 | 0.1 | 19.1 | 552.0 |
| Argentina | 15.2 | 3.5 | 11.7 | 650.0 |
| Ecuador | 11.4 | 0.0 | 11.4 | 292.3 |
| Jamaica | 6.8 | 0.0 | 6.8 | 176.3 |
| Costa Rica | 4.8 | 0.0 | 4.8 | 184.3 |
| Paraguay | 3.5 | 0.0 | 3.5 | 172.6 |
| Trinidad & Tobago | 1.1 | 0.0 | 1.1 | 31.6 |
| Bolivia | 0.9 | 0.0 | 0.9 | 25.9 |
| Venezuela | 0.3 | 0.0 | 0.3 | 6.8 |
| Belize | 0.0 | 0.0 | 0.0 | 0.4 |
| Country | Flow Week | Equity Flow | Bond Flow | Total Assets |
| --- | --- | --- | --- | --- |
| China/Hong Kong | 842.3 | 827.3 | 15.0 | 107,400.1 |
| Taiwan | 163.4 | 163.4 | 0.0 | 32,927.7 |
| South Korea | 161.9 | 161.1 | 0.9 | 19,309.6 |
| India | 84.5 | 80.6 | 3.9 | 22,459.3 |
| Indonesia | 73.9 | 33.6 | 40.4 | 4,838.3 |
| Malaysia | 43.5 | 27.2 | 16.2 | 5,105.6 |
| Philippines | 38.2 | 8.9 | 29.3 | 2,803.2 |
| Thailand | 35.2 | 34.8 | 0.4 | 5,510.5 |
| Kazakhstan | 19.0 | 0.0 | 19.0 | 564.6 |
| Sri Lanka | 7.7 | 0.0 | 7.7 | 249.6 |
| Pakistan | 5.2 | 0.6 | 4.6 | 347.3 |
| Vietnam | 1.3 | 0.0 | 1.3 | 478.0 |
| Mongolia | 0.2 | 0.0 | 0.2 | 46.4 |
| Bangladesh | 0.0 | 0.0 | 0.0 | 23.4 |
Europe, Middle East & Africa
| Country | Flow Week | Equity Flow | Bond Flow | Total Assets |
| --- | --- | --- | --- | --- |
| Russia | 92.6 | 62.6 | 30.0 | 8,446.8 |
| South Africa | 66.5 | 44.5 | 22.1 | 8,751.1 |
| Saudi Arabia | 57.4 | 25.1 | 32.3 | 6,546.5 |
| Qatar | 41.8 | 7.2 | 34.6 | 2,686.2 |
| Turkey | 36.5 | 7.5 | 29.0 | 2,279.2 |
| Poland | 29.9 | 21.8 | 8.1 | 1,521.6 |
| U.A.E. | 29.5 | 5.1 | 24.4 | 1,889.6 |
| Egypt | 23.7 | 1.1 | 22.6 | 940.3 |
| Oman | 20.8 | 0.0 | 20.8 | 623.8 |
| Bahrain | 20.5 | 0.0 | 20.5 | 678.3 |
| Ukraine | 17.0 | 0.0 | 17.0 | 510.4 |
| Hungary | 12.6 | 2.3 | 10.4 | 948.2 |
| Romania | 11.8 | 0.3 | 11.5 | 614.6 |
| Nigeria | 11.5 | 0.0 | 11.5 | 457.3 |
| Ghana | 10.2 | 0.0 | 10.2 | 261.1 |
| Kenya | 7.1 | 0.0 | 7.1 | 289.5 |
| Kuwait | 6.2 | 0.1 | 6.1 | 801.0 |
| Jordan | 5.8 | 0.0 | 5.8 | 225.4 |
| Croatia | 4.5 | 0.0 | 4.5 | 151.4 |
| Ivory Coast | 4.1 | 0.0 | 4.1 | 104.8 |
| Iraq | 3.7 | 0.0 | 3.7 | 95.8 |
| Senegal | 2.6 | 0.0 | 2.6 | 67.3 |
| Greece | 2.0 | 2.0 | 0.0 | 512.5 |
| Morocco | 1.7 | 0.0 | 1.7 | 102.6 |
| Lebanon | 1.3 | 0.0 | 1.3 | 35.6 |
| Czech Republic | 1.2 | 1.0 | 0.2 | 399.3 |
| Zambia | 1.2 | 0.0 | 1.2 | 30.8 |
| Gabon | 1.1 | 0.0 | 1.1 | 31.0 |
| Tunisia | 1.0 | 0.0 | 1.0 | 26.1 |
| Mauritius | 0.0 | 0.0 | 0.0 | 14.3 |
| Lithuania | 0.0 | 0.0 | 0.0 | 0.2 |
| Slovakia | 0.0 | 0.0 | 0.0 | 0.2 |
| Mozambique | 0.0 | 0.0 | 0.0 | 1.1 |