Emerging-Market Central Banks Rethink Rates on Low Inflation
(Bloomberg) -- The global tide of weaker inflation is taking an extra toll on emerging markets, putting central banks under pressure to lean away from their bias toward raising interest rates.
In the past month, JPMorgan Chase & Co. has shifted forecasts for 10 emerging-market central banks toward looser monetary policy amid the slowing of price pressures, while Bank of America Corp. estimates policy makers are sounding the most dovish since 2009.
The shift comes just two months since Nomura Holdings Inc. declared it wasn't "bananas" to talk about deflation -- or falling consumer prices -- in developing economies.
The theme is most visible in Asia, with India's consumer-price growth sliding in January amid dampening food costs -- staying well below the Reserve Bank's target and justifying last week's surprise rate cut.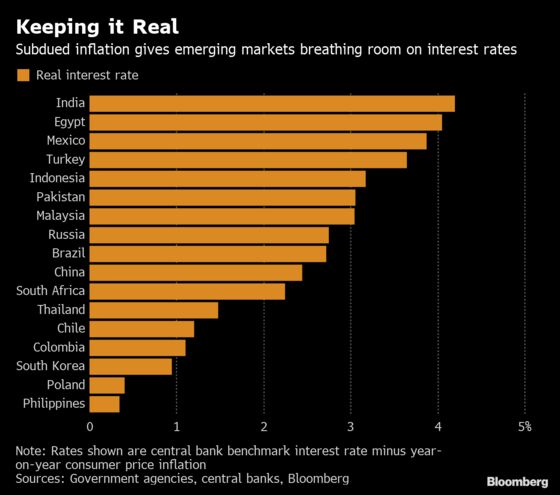 The good news is that unlike many of their peers in industrial economies, emerging markets are generally well-placed to cope with softer inflation pressures, partly because many raised rates last year and so have room to reverse that aggression. The scope is evident in the height of so-called real rates which are benchmarks adjusted for inflation.
"Real central bank rates in the emerging-market space remain very high," James McCormick, global head of strategy at NatWest Markets Plc, said in a report this week. "Rate cuts in high-yield emerging markets reflect relative strength and improving financial conditions, not the other way around."
Morgan Stanley estimates inflation is below 10-year averages across 80 percent of the emerging markets it covers, economists led by Chetan Ahya wrote in a note Friday. The U.S. bank expects 70 percent of those central banks to either keep policy rates on hold or cut them.
The current disinflationary backdrop is especially tricky for emerging markets, which are more vulnerable to swings in food and fuel prices. After the Federal Reserve's sharp tightening bias last year saw developing economies follow suit, weaker inflation is now pressuring them to reverse policy amid the U.S. central bank's dovish turn on rates and a souring global growth outlook.
"The chances are that other central banks in Asia could follow what the RBI has done -- partly because of weaker growth, but the other part is with no real inflationary pressures out there," said Rob Subbaraman, head of Asia ex-Japan fixed-income research at Nomura.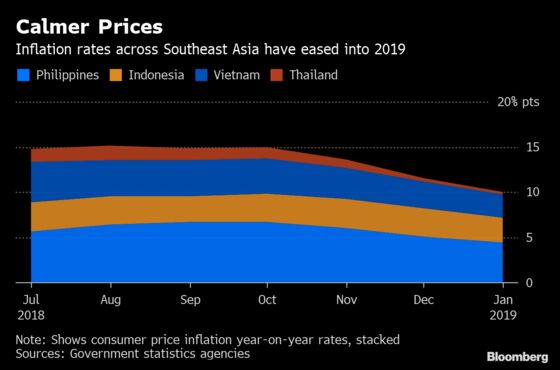 Chinese consumer-price growth unexpectedly slowed in January, with the year-on-year gain coming in at 1.7 percent in data released Friday. The global focus is on factory inflation, which is closely tied to exports and slowed again last month to the weakest since late 2016 on softening demand and lower commodity prices.
The Citi Inflation Surprise Index for emerging markets dropped last month to its lowest in more than three years, signaling that prices are falling below estimates. And inflation expectations that jumped in January for those markets are now trending lower again, Bank of America indexes show.
To be sure, some emerging markets are still grappling with high prices -- Turkey's inflation rate is around 20 percent. And core inflation gauges, which strip out food and fuel, remain relatively elevated elsewhere. Russia held its key rate at 7.75 percent last week but didn't rule out further hikes. After a series of increases, the odds of further moves have gone down in Mexico, just like in Chile where policy makers are starting to debate whether they slow the tightening cycle.
While Indonesia's core CPI gauge is near its fastest rate in more than a year at around 3 percent, that's down from near 5 percent in 2015. Southeast Asia's largest economy has lifted restrictions on imports of sugar and rice in order to keep prices down, as well as capping the costs of staple items.
"Inflation expectations are low because there is confidence that the government will maintain prices," Bank Indonesia Deputy Governor Dody Budi Waluyo said in an interview. The central bank next decides on policy Feb. 21 and is currently expected to remain on hold.
Beyond the rocky policy decisions ahead in 2019, longer-term trends linked to globalization and new technologies are also likely to remain inflation drags. Nomura analysts cite the digital revolution as a key influence to watch, especially in emerging markets.
"It's such a slow-moving thing," Richard Jerram, chief economist at Bank of Singapore Ltd., said of the global inflation trend. "If anything over the past five or six years, we've seen how much inertia it has."