Emerging-Market Bull Who Saw Volatility Return Says It's Time to Buy
(Bloomberg) -- For Jean-Charles Sambor, the sea of red flashing across emerging markets on Monday was the moment he was waiting for.
After reducing exposure in his $4.6 billion emerging-market bond funds over the past few months expecting volatility to return, the deputy head of fixed-income at BNP Paribas Asset Management said he's ready to buy again after the reemergence of U.S.-China trade tensions sent assets into a tailspin.
London-based Sambor has now turned more positive on the offshore yuan, and sees value in Indonesia's bonds and currency, the Korean won and the Thai baht because they are relatively more stable.
Read Sambor's call in March for more volatility to come, here.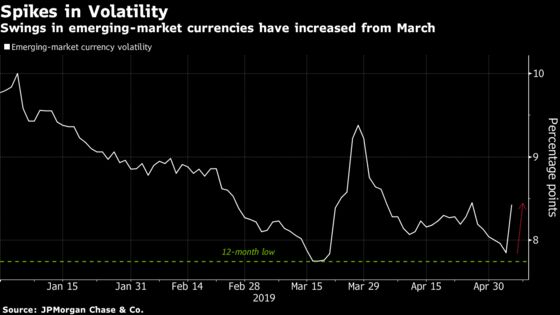 "There could be one or two more days of volatility," Sambor said in a phone interview from New York, where he arrived Sunday night and learned about President Donald Trump's tweets about his plan to hike tariffs. "We should take advantage of that. In the longer term, both the U.S. and China have some incentive to reach a deal."
Price swings were back after a period of calm helped by the Federal Reserve's dovish turn, as planned trade talks between the world's two largest economies were thrown into doubt.
Implied volatility in developing-nation currencies rose on Monday by the most in more than a month after falling to a one-year low in March, when Sambor predicted the market wiould become "extremely volatile," creating opportunities for investors to buy the dips.
"What we're seeing today is part of the negotiating tactic," Sambor said, referring to President Trump's recent tweets. "We're seeing that in Mexico, we're seeing that in North Korea when it comes to very late-stage negotiations. There's always a pretty nasty, aggressive tweet. I would use that as a good entry point."