Emerging Asia Builds on Defenses in Fed-Led Tightening Cycle
(Bloomberg) -- Asia's worst-hit emerging markets moved on Thursday to protect their economies against growing threats from Federal Reserve tightening, a strong dollar, and escalating U.S.-China trade hostilities.
Following the Fed's interest-rate increase Wednesday, Bank Indonesia raised rates for a fifth time this year, to 5.75 percent from 5.5 percent, while the Philippines delivered another strong hike of 50 basis points to 4.5 percent. In a busy day for regional central banks, New Zealand and Taiwan held their policy stances, while flagging growth risks from the trade conflict. In India, authorities took steps to support lenders and curb the rupee's slide.
Indonesia has been among the hardest-hit of Asia's emerging markets this year, erecting numerous defenses to protect a currency that's weakened about 9 percent against the dollar since the start of 2018. In the Philippines, central bankers are pushing back against inflation that's surged well beyond the top of their target range.
For both, and for central bankers the world over, policy and trade risks emanating from the U.S. are offering more reasons to tighten and to work to fend off capital flight, not to mention strengthening oil prices.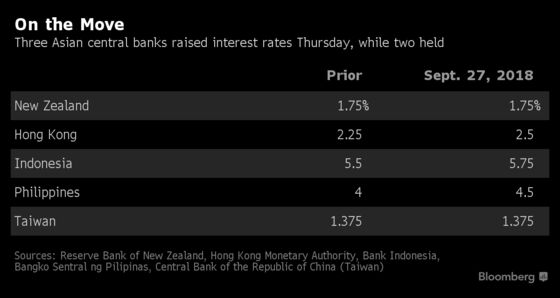 Hong Kong's central bank also raised its benchmark interest rate on Thursday to 2.5 percent from 2.25 percent, in line with the Fed's move.
Governor Perry Warjiyo cited a need to "further strengthen Indonesia's external resilience amid the current global uncertainties that are still high," naming Fed policy normalization and trade tensions specifically.
"Bank Indonesia will not be hesitant to control or guard the stability of the exchange rate," he said.
What Our Economists Say
"Its work is unlikely done. Bank Indonesia said policy remains 'front-loaded' and 'pre-emptive' -- language that has preceded previous rate hikes. We think it will lift rates another 25-50 bps before year-end and maintain a tightening bias into 2019, especially as the Federal Reserve continues to signal further tightening ahead."

--Tamara Henderson, Bloomberg Economics

For more, see our Indonesia Insight
The Philippines followed suit Thursday with more tightening, marking their most aggressive run of interest-rate increases since 2000, in a bid to hold off inflation and calm the flailing peso that's down about 8 percent against the dollar this year. The officials are expecting the back-to-back 50 basis-point hikes to have an especially powerful effect on market sentiment.
The Philippine central bank won't meet its inflation target for this year or next, and still has some catching up to do. Even after Thursday's rate increase, the nation retains the unfavorable distinction of having the biggest negative real interest rate across Asia.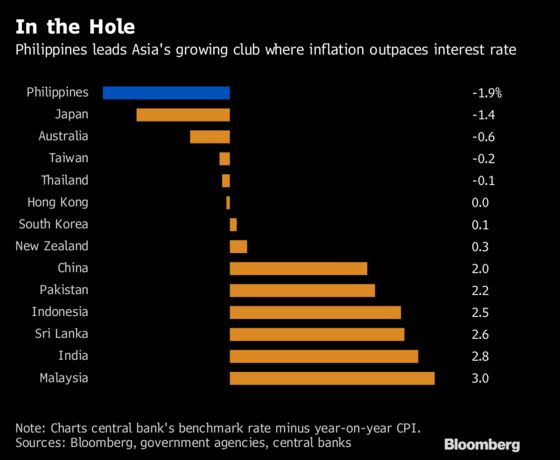 Taiwan's policy makers held their fire on the benchmark interest rate Thursday, in line with 27 of 29 estimates in the Bloomberg survey. Governor Yang Chin-long said the central bank is closely monitoring the U.S.-China trade wars, though the tensions haven't had a major impact on Taiwan yet. A report issued along with the rate decision cites downside risks to growth that have increased sharply because of the trade conflict.
Fed Chief Jerome Powell, in response to questions Wednesday about the impact of Fed policy on emerging markets, struck a reassuring tone.
"The performance of the emerging market economies really matters to us, in carrying out our domestic mandate," Powell said. "There are some countries that are undergoing severe stress, a handful of them, but not most emerging-market countries."
Among developed markets in Asia, New Zealand's central bank held the benchmark interest rate Thursday at a record-low 1.75 percent with Reserve Bank Governor Adrian Orr reiterating that he expects to keep it there through 2019 and into 2020. Orr said the next rate move "could be up or down," with lingering downside risks to the growth outlook.
"Global inflationary pressure is expected to rise, but remain modest," the central bank said in a statement. "Trade tensions remain in some major economies, increasing the risk that ongoing increases in trade barriers could undermine global growth."