EM Carry Is on a Roll, But It's Too Early to Say Rout Is Over
(Bloomberg) -- While carry traders in emerging-market have had a good run this month, it may be too soon to conclude the rout is over.
A Bloomberg currency index that measures carry-trade returns from eight emerging markets, funded by short positions in the dollar, has climbed 3.4 percent in the eight days through Tuesday, the longest winning streak since July last year. Expected price swings in developing-nation currencies sank to a three-month low, despite volatile trading in U.S. bonds and stocks in October, according to a JPMorgan Chase & Co. index.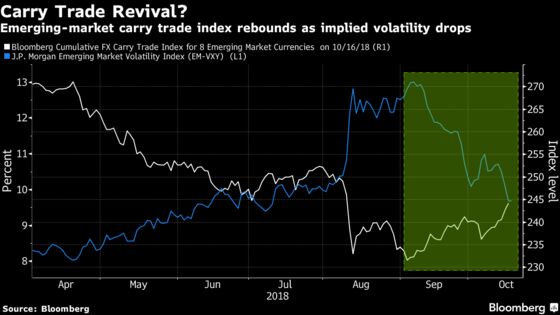 "One should be careful declaring that we are witnessing a sustainable revival of EM carry trade," said Piotr Matys, a currency strategist at Rabobank in London. "This is a short-term recovery generated by specific domestic factors at the time when the external backdrop is likely to remain challenging for the EM."
Also, escalating tension between Washington and Beijing, and higher U.S. interest rates reduce the appeal of these high-yielding currencies, Matys said
The Turkish lira, South African rand and Brazilian real -- which were among the hardest hit this year through September -- led the advance since Oct. 5, boosting returns for investors who borrow where interest rates are low to buy higher-yielding assets. Argentina's peso is also among the biggest gainers, but the currency isn't included in Bloomberg's carry-trade index.
Turkey's decision to release U.S. evangelical pastor Andrew Brunson and the central bank's move to hoist the benchmark rate to 24 percent helped the lira to outperform most of its peers
South Africa's appointment of a new finance minister has helped bolster the rand, the currency tends to trade in tandem with the lira, Matys said
In Brazil, investors are cheering signs that Jair Bolsonaro is getting closer to winning the presidency and the promise of his fiscal plan