Egypt Won't Seek Further Funding From IMF When Program Ends
(Bloomberg) -- Egypt won't ask for further funding from the International Monetary Fund when its $12 billion program expires next year but is open to maintaining a looser relationship with the multilateral lender to reassure investors, Finance Minister Mohamed Maait said.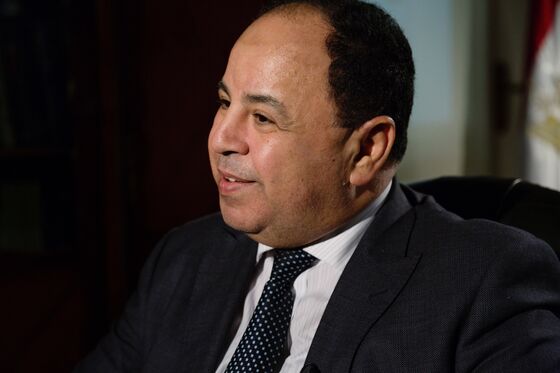 "We are now in a position that we don't think we will need further funding from the IMF. That is number one," Maait said in an interview with Bloomberg Television. Speaking at his office in Cairo, Maait said there "could be some sort of cooperation" with the Washington-based lender but "let me say again and stress again that this does not mean we're going to ask for further financing."
Maait declined to elaborate on what kind arrangement Egypt hoped to reach when the three-year program that helped pull the economy from the brink of crisis expires in June.
Egypt liberalized its currency regime in November 2016, helping to secure the IMF loan to support an economic overhaul that aimed to cut the budget deficit to 8.1 percent of gross domestic product by mid-2019. The government has largely stayed the course, plowing ahead with subsidy cuts, though the currency halved in value and inflation hovered above 30 percent for much of last year. But with volatility sweeping emerging markets and borrowing costs rising, it had given no clear indication what might come next.
The IMF-backed measures helped attract billions of dollars of foreign investments into domestic bills and bonds and replenish foreign reserves. While the pound has remained stable, however, convulsions in emerging markets have hit demand. More than $7 billion flowed out in the six months to the end of September.
The government has embarked on a multi-pronged plan to reduce debt and is taking steps to make itself more attractive to institutional investors.
Maait confirmed Egypt was seeking inclusion in JPMorgan Chase & Co.'s emerging market bond indexes to boost inflows from overseas institutional investors to its domestic debt market, following similar steps by Saudi Arabia and four other Gulf countries.
The government was also nearing agreement with Belgium-based Euroclear, which settles transactions in securities in dozens of countries, to clear its domestic debt transactions, making it easier for foreigners, who currently have to go through a local bank, to invest in Egyptian-pound denominated debt.
'These Tools,' More Bonds
"We are taking steps. We hope that by April we'll be ready and in the new financial year all our local and domestic debt issuances will be Euroclearable," he said. "To be included in the JPMorgan index might take longer, but if we can also finish it by 30 June 2019 it would be a fantastic news for us because we think these tools will help us to reduce the cost of borrowing."
Egypt has sold more than $13 billion in foreign-currency denominated bonds since it liberalized the currency in 2016. Its first euro-denominated bond, issued in April, was oversubscribed.
Maait said the government would go to the market again in early 2019 but could look to diversify into yen and yuan-denominated debt. The government is also expecting to issue its first green bonds, linked to environmental projects, in the 2018-19 financial year ending in June but was unlikely to launch its first Islamic bond, or sukuk, until the following year.
Egypt is also considering issuing international bonds denominated in local currency, he said, confirming an exclusive Bloomberg report last month.
"We will diversify countries, we will diversify currencies and we will diversify products," he said.