Painful Parallels on Anniversary of Meltdown as Emerging Markets Stall
(Bloomberg) -- It isn't good news for emerging markets if a rebound stalls in April and May: Last year, it marked the start of a multi-trillion-dollar meltdown from which investors have yet to recover.
That's why the recent sell-off amid renewed trade tension has brought back memories of 2018, sending investors scurrying to buy protection through equity options and credit default swaps. But Goldman Sachs Group Inc. and JPMorgan Chase & Co. say markets may be more resilient this time as the Federal Reserve has turned less hawkish and the growth outlook is better for many countries.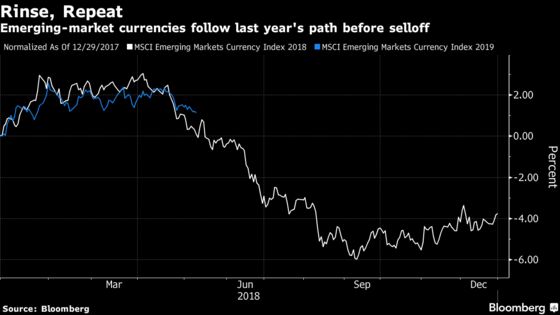 After the best start since 2012, developing-nation stocks have fallen about 6% from this year's high, while currencies are heading for the longest weekly slump since July. Volatility has returned and clouds are gathering for a number of vulnerable markets from Turkey to Argentina.
"For EM assets in particular, there are uncomfortable parallels to the experience of 2018," Goldman Sachs analysts Kamakshya Trivedi and Mark Ozerov wrote in an emailed note. "What is strikingly different, however, is the policy stance in the U.S. and China."
Read More: 
Assets Tumble as Investors Fret Over China Tariffs: Inside EM
At least two Fed policy makers prefer an interest-rate cut even though Chairman Jerome Powell sees little scope for a move in either direction. China continues a fragile recovery supported by months of economic stimulus even as its trade surplus dwindles.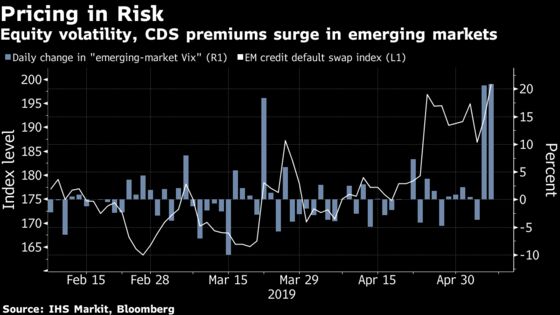 That's a change from last year, when the Fed was firmly on the path of higher rates and China faced a growth shock from punitive U.S. tariffs. While stocks, bonds and currencies had quickly rebounded from a correction since January 2018, the slump resumed in late April when the 10-year Treasury yield breached 3%. By August, it had snowballed into a rout, led by Turkey's lira and reverberating as far as India and Indonesia.
Market conditions are more benign now. A reconsidered inflation outlook and less hawkish Federal Reserve helped 10-year U.S. Treasury yields retreat from 3%. And the dollar has stopped rallying.
Yet risky assets still face bearish momentum this quarter. Morgan Stanley cut its recommendation for local-currency securities to neutral last week, citing the dollar's reluctance to weaken. Bank of America Corp. strategists said a trade agreement between the U.S. and China and more concerted global growth are both needed in order for emerging markets to buck a trend of seasonal losses in May.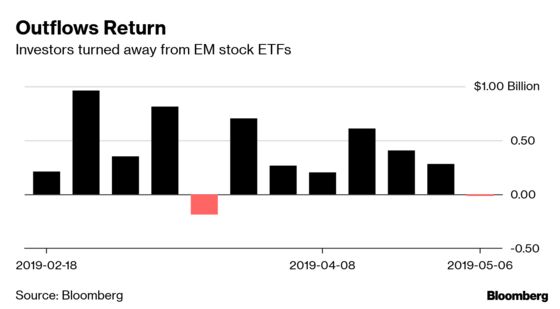 Flows into exchange-traded funds that invest in emerging market stocks and bonds turned negative last week for the first time since March as some investors deserted Chinese assets, according to data compiled by Bloomberg. Inflows this year still total $19 billion.
The lira has weakened to levels last seen during the sell-off amid uncertainty over Turkish central bank policy, foreign-currency reserve levels and the outcome of municipal elections. In Argentina, upcoming elections and stubbornly high inflation are once again roiling assets.
Yet the fact that these countries' assets are starting the current phase of uncertainty at weaker levels may help limit a potential fallout, according to JPMorgan currency strategists including Anezka Christovova and Jonathan Cavenagh.
"External imbalances in Argentina and Turkey have improved as a source of concern, with EM currencies already a lot weaker over the last 12 months," they said in an emailed note. "This is helpful, although for both economies the market is now more focused on debt concerns than external imbalances."