Economists Cut China GDP Estimates as Trade War Trumps Stimulus
(Bloomberg) -- Forecasters reduced estimates for Chinese economic growth over the coming quarters as recent government measures to counter an escalating trade war with the U.S. were seen as inadequate.
Gross domestic product will probably increase by 6.4 percent on a year-over-year basis in the final quarter of 2018 before growth decelerates to 6.3 percent in the first quarter of 2019, according to 65 economists surveyed by Bloomberg. Those forecasts, collected Oct. 22-29, were marked down from the estimates of 6.5 percent and 6.4 percent, respectively, collected in September's survey.
"We are looking for a slowdown into 2019, despite attempts by the government to stimulate via fiscal and monetary policy," Patrick Franke, an economist at Helaba in Frankfurt who participated in the survey, said. "Trade conflict, including the tariff hike to 25 percent, should continue to weigh on growth."
GDP growth slowed to 6.5 percent in the third quarter from 6.7 percent in the second quarter, missing estimates for a 6.6 percent increase, according to figures published on Oct. 19 by China's National Bureau of Statistics. The third-quarter growth number marked the slowest pace of economic expansion in China since the aftermath of the global financial crisis in 2009.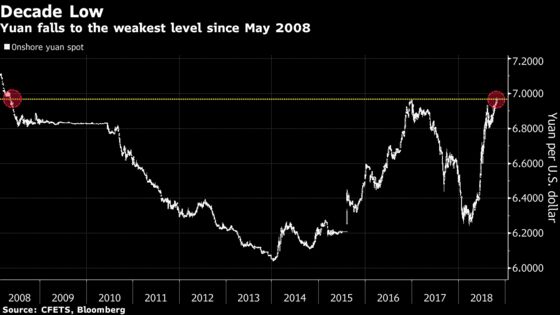 On Tuesday, China's currency slid to its weakest level against the U.S. dollar in more than a decade following a report that U.S. President Donald Trump plans to expand tariffs to cover the full range of imports from China if he is unable to extract concessions from Xi Jinping during a Group of 20 summit of world leaders in Argentina at the end of November.
Currently, U.S. duties cover $250 billion of Chinese imports. The latest round of tariffs, which the U.S. imposed on $200 billion of Chinese goods in September, are currently being assessed at a 10 percent rate, but are expected to increase to 25 percent in January. Expanding tariffs to the full range of imports would increase the value of Chinese goods covered by an additional $257 billion, based on last year's import figures.
While the Chinese government introduced a further package of stimulus measures this month to counter the effects of the slowdown, the effects have yet to be felt, according to a set of early indicators of sentiment in October compiled by Bloomberg Economics.
Forecasters in this month's survey also increased their estimates for average consumer price inflation this year and next year and reduced estimates for China's current account surplus as a percentage of GDP.