Economists Are Slowly Catching Up With Market's Dovish BOE View
(Bloomberg) -- Economists are slowly paring expectations for Bank of England action in 2019, but they remain more optimistic than investors.
Bloomberg's latest survey shows a median forecast for just one interest-rate hike this year, down from two previously. Around half see that move coming in the second quarter, a full year earlier than currently priced in by markets.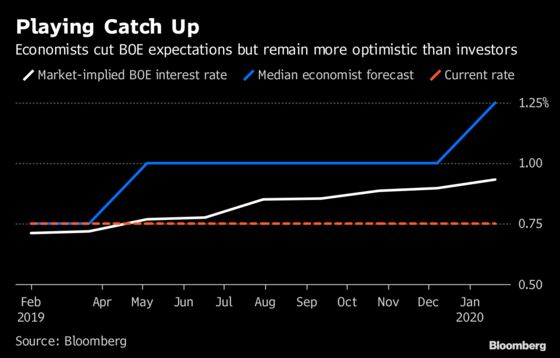 With Brexit still the key variable for the BOE, the rate outlook could be drastically rewritten once the terms of the U.K.'s exit becomes clearer. Lawmakers are scheduled to vote on Prime Minister Theresa May's proposed deal on Tuesday.
The disparity between economists and investors could be explained in that most economists' forecasts are based on the assumption that the U.K. will avoid crashing out the bloc without a deal. That means they are more optimistic than investors, who can be nimble in responding to day-to-day changes in the likelihood of an exit agreement being approved by Parliament.
BOE Governor Mark Carney has long said that Brexit could push officials to move policy in either direction, and that a no-deal outcome could lead to quicker hikes in an attempt to control inflation.
Still, the latest survey data suggest that economists, like investors, are increasingly rejecting that view and would expect the bank to keep policy loose to promote economic growth if Brexit becomes disorderly.
The BOE will announce its next interest rate decision and update its economic forecasts on Feb. 7. There's another scheduled policy meeting a week before the U.K.'s March 29 deadline for leaving the EU.