Economic Upside of Revised Nafta? Just Avoiding Downside Is Good
(Bloomberg) -- For the economies of North America, the best part of the new Nafta is merely the fact that it exists.
The revised trade accord reached over the weekend by the U.S., Canada and Mexico should aid growth, mainly by eliminating President Donald Trump's threat of a potential withdrawal from the original North American Free Trade Agreement, economists say.
The relatively tepid reaction from analysts compares with a joint statement that the updated agreement will bring "freer markets, fairer trade and robust economic growth." Trump said Monday that it "will send cash and jobs pouring into the United States" and called it America's most important trade deal ever.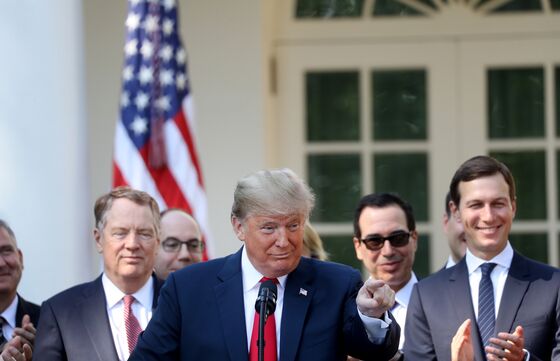 The renamed USMCA updates 1994's Nafta with changes including higher wages for workers making auto parts and improved access for U.S. farmers to the Canadian dairy market. While economists weren't rushing to boost their forecasts for gross domestic product, they said the trade pact eliminates the downside scenario of no deal or just a bilateral agreement, and should support expansion over the long term.
"Everybody is happy, and why is that? Because the alternative would be much, much worse," said Raoul Leering, head of international trade analysis at ING Groep NV. The possibility of tariffs on a variety of Canadian goods "would have a much more negative effect on world trade."
Investors took the result as a positive: U.S. stocks rose and yields on long-term Treasuries ticked up, while the Canadian dollar advanced against the greenback. The agreement still requires approval from lawmakers in the three countries.
In terms of the U.S. economy, Leering said the new agreement will be positive in the long run as U.S. companies expand operations domestically, while some sectors may become more protected from foreign competition. Steel and aluminum tariffs remain, which will continue to push up prices, a near-term threat.
The Conference Board of Canada recently estimated that auto tariffs along with failing to renew the trade pact would curb growth by 0.6 percentage points next year and another 0.7 points in 2020, nearly a third of the expected pace of expansion.
"It doesn't majorly affect the economic outlook for Canada, but what it does is limit the downside risk from trade uncertainty over the next year, which was pretty prevalent, and puts a little upside risk on trade," Douglas Porter, chief economist at Bank of Montreal. "What's been weighing on Canada over the past year is the uncertainty, and it was clouding business investment plans."
JPMorgan Chase & Co. economists for Mexico said Monday that a trilateral accord was their "base-case scenario." They left their growth forecast unchanged at 2.4 percent for 2019.
"If you're looking at what they agreed to, versus the baseline of Nafta, for the U.S. it's not really that much difference at all," said Jay Bryson, global economist at Wells Fargo & Co. "For Canada and Mexico, maybe it's eliminated some uncertainty there."
What Our Economists Say
On the U.S.: "Since we are subtly shifting from Nafta to rebranded Nafta, the economic consequences are quite small. I think the strongest positive from this is the sense that is shows the administration being flexible on trade issues, and amenable to compromise, not pursuing a sharp, isolationist turn." -- Carl Riccadonna

On Canada: "It is a win for Canada because of what didn't happen. The agreement doesn't really change the rules in a meaningful way at the macro level, but the consequences of not reaching a deal would have been disastrous." -- Tim Mahedy

For more from Bloomberg Economics, see BI ECON.
While Trump again mentioned on Monday his frequent claim that the U.S. loses hundreds of billions of dollars a year on trade -- referring to the annual trade deficit -- "and we're not going to allow that to happen," ING's Leering said the U.S. trade gap isn't likely to narrow because imports will keep rising. The trade gap in goods widened in August to a six-month high and was close to a record.
"As long as you have expansionary budgetary policy, I see imports rather going up than going down," Leering said.