Producer Prices in U.S. Increase in October by Most Since 2012
(Bloomberg) -- U.S. producer prices rose more than forecast in October for the biggest jump in six years on broad gains in costs for goods and services, a Labor Department report showed Friday.
The producer-price index rose 0.6 percent from September after a 0.2 percent advance, and climbed 2.9 percent from a year earlier after a 2.6 percent gain. Excluding food and energy costs, the core PPI readings were also up more than forecast, rising 2.6 percent from October 2017 and 0.5 percent from the prior month.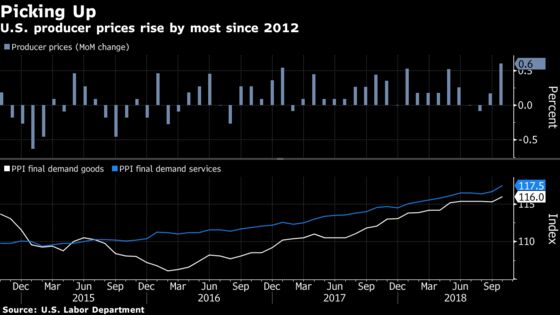 Key Insights

The figures, which measure wholesale and other selling prices at businesses, indicate that price pressures in the production pipeline are advancing steadily. Along with solid demand, the tariff war with China has raised concern that producers will face rising prices and supply-chain disruptions for materials. The Federal Reserve on Thursday reiterated its plan to keep lifting interest rates gradually.
The main PPI results exceeded the median estimates in a Bloomberg survey of economists calling for a 2.5 percent annual increase and a 0.2 percent month-over-month rise. The Bloomberg survey median was for a core monthly advance of 0.2 percent and 2.3 percent annual gain.
Producer costs excluding food, energy, and trade services, a measure some economists prefer because it strips out the most volatile components, rose 0.2 percent from the prior month, and rose 2.8 percent from a year earlier following a 2.9 percent gain.
While the consumer price index -- due next week -- is considered a more important indicator of inflation, data on producer prices help provide insights into the direction of input costs that businesses are facing. Analysts watch this data to assess how likely it is that gains will filter through on to consumers.
What Our Economists Say...
The strength of October's PPI is unlikely to be sustained given recent developments in the oil markets. However, the buildup in service-price inflation is notable as it could be a sign of intensifying pipeline price pressures in the sector. The magnitude of price acceleration will ultimately depend on the pace of service-price inflation, which makes up around 65 percent of headline PPI.

-- Yelena Shulyatyeva and Carl Riccadonna, Bloomberg Economics

Read more for the full note.
Treasuries pared gains after the report. The benchmark 10-year note yielded 3.22 percent, up from as low as 3.2 percent earlier Friday.