ECB Wins Respite as Growth Cheer Cancels Draghi Stimulus Alarm
(Bloomberg) -- Go inside the global economy with Stephanie Flanders in her new podcast, Stephanomics. Subscribe via Pocket Cast or iTunes.
European Central Bank policy makers who sounded the alarm about the region's slowdown last month can now relax a bit as the stimulus they prepped becomes less urgent.
It was during the first quarter that officials, led by President Mario Draghi, reactivated plans to aid growth in a moment of embarrassment so soon after concluding bond purchases last year. But the economy was expanding maybe more than they realized.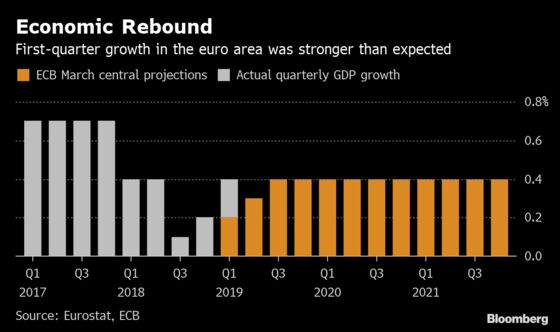 The pace of growth doubled during that period to 0.4 percent compared with the final three months of 2018, amid a surge in Spain, resilience in France and a rebound in Italy.
That fillip, reported on Tuesday, taken together with the U.S. economy's concurrent upturn, may provide a stronger foundation for global growth at a time that International Monetary Fund chief Christine Lagarde has described as a "delicate moment." Trade tensions, Brexit uncertainty and softer momentum in China have weighed on momentum in recent months.
In Europe, the strength of the pickup may lessen the risk of a major downgrade in the ECB's outlook at its next policy meeting at the start of June. Consequently, it's likely to ease pressure on Draghi and his colleagues to deliver an extra stimulus shot on top of a reactivated loan program for banks, details of which they have promised to reveal.
"There was an expectation that, if things get worse, there would be pressure for the ECB to offer more in June, like promising to keep interest rates low for longer," said Angel Talavera, an economist at Oxford Economics. "Now the ECB might have a little more breathing room."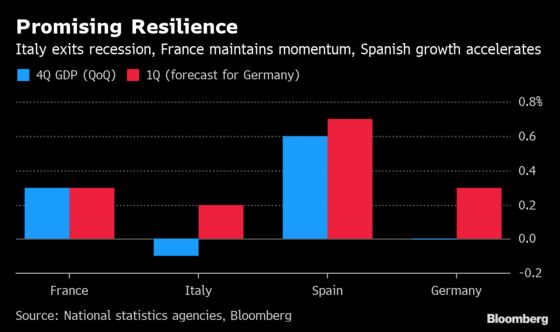 Indicators had suggested that a manufacturing slump in the 19-nation region could infect the rest of the economy and endanger a rebound that the ECB predicts for the second half of the year.
While concerns have coalesced around Germany, a report on Tuesday showed companies in Europe's largest economy are keeping faith in the recovery with unemployment continuing its decline amid very strong demand for workers. April inflation exceeded economist expectations, reaching the strongest level in five months.
The prospect of conserving stimulus ammunition in an already depleted toolkit -- emptied by waves of quantitative easing and multiple interest-rate cuts into negative territory -- will buy time for policy makers to see if the region's recovery really is as sustainable as they had previously declared.
What Bloomberg's Economists Say

"A pick up in euro-area GDP growth in 1Q will finally give the European Central Bank reason to cheer. The data suggests the drag on the region's economy from country-specific shocks is dissipating and the long-awaited reversion to trend may finally be underway."

David Powell, senior euro-area economist
Click here to read the full report
In March, the ECB slashed its growth forecasts. It committed to keeping rates low for longer, and then unveiled a new loan program for banks. That had been flagged as necessary to avoid a cliff edge in its support for the financial system, but Draghi suggested it could be calibrated as a stimulus tool.
"It's fair to say that the hard numbers are stronger than what the ECB has been suggesting," said Claus Vistesen, an economist at Pantheon Macroeconomics in Newcastle. "The ECB has committed a little bit of a policy mistake in March -- they were too bearish in an environment where a lot of indicators were suggesting that growth was really slowing."