ECB Will Tweak Capital Key, Cutting Italy's Share in Bond-Buying
(Bloomberg) -- The European Central Bank will adjust the capital shares of national central banks next year, a step that will have implications for its bond-buying program and the amount of stimulus reaching the euro area's weakest members.
The changes to the so-called capital key will reduce the shares of 12 countries including Italy, Spain and Greece, while boosting those of 16 others including Germany, France and Austria. The adjustment, which is made every five years or when a new member states joins the bloc, will come into effect on Jan. 1, according to an ECB's statement on Monday.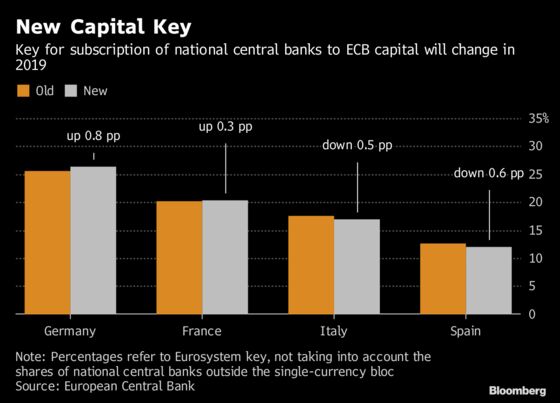 Once an obscure matter of central-bank accounting, the capital key has become relevant for monetary policy when the ECB started its quantitative-easing program in March 2015. The measure is used to determine how bond purchases are divided among euro-zone nations, and the latest revisions will determine whose share will grow or shrink.
Click here for a detailed table on ECB capital subscriptions
The update is particularly sensitive for Italy, where bond yields have been under pressure recently because of a budget spat between the government and the European Union. Besides, the region's third-largest economy is struggling to pick up pace and would benefit from more instead of less stimulus. Output unexpectedly contracted in the three months through September, with structural weakness in productivity hinting at lackluster performances also in the future.
The ECB is expected to cap bond buying at 2.6 trillion euros ($3 trillion) this month, although policy maker will continue to reinvest maturing debt for an extended period of time. That means officials will need to find ways to recalibrate their portfolio while keeping market disruptions at a minimum. The Governing Council will probably spend much of its discussion on Dec. 13 on devising a strategy, according to people familiar with the matter.
According to Bloomberg calculations, the Bank of Italy will purchase 780 million euros fewer bonds between January and October 2019, compared to a scenario where the capital key remained unchanged. Germany's Bundesbank will buy 1.2 billion euros more.
The key is based on the size and population of individual economies within the EU. It was originally designed to determine how much of the ECB's capital each government should provide. The total amount of subscribed capital remains unchanged at 10.8 billion euros following the review, according to the statement.
The ECB will have to review its calculations again after Brexit, when the Bank of England will leave the Eurosystem. While the BOE -- as other non-euro members -- paid in only a small part of its share, it will still have to transfer almost 3 million euros to Frankfurt.