ECB Warns of Market 'Exuberance' as Economy Recovers From Pandemic 
Increasingly stretched prices in property and financial markets, risk-taking by non-banks and elevated borrowing pose a threat to euro-area stability, the European Central Bank warned.
While the economic recovery from the coronavirus crisis means near-term risks have dissipated, vulnerabilities are accumulating with potentially grave consequences down the line, according to the Frankfurt-based bank.
"Concerns particularly relate to pockets of exuberance in credit, asset and housing markets, as well as higher debt levels in the corporate and public sectors as a legacy of the pandemic," it said Wednesday in its Financial Stability Review, echoing former Federal Reserve Chairman Alan Greenspan's description of the dot-com bubble in the 1990s.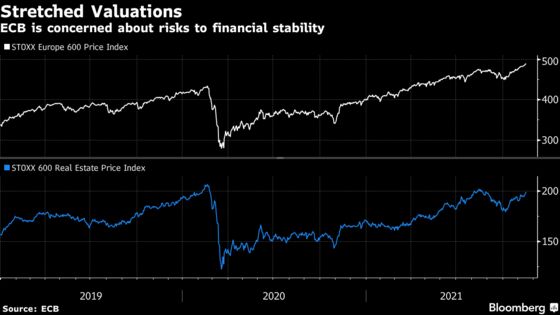 The 19-nation euro region has rebounded sharply since the ECB's last financial-stability update in May. Its equity markets, meanwhile, have joined the global push higher, with riskier segments in particular seeing increasing investor demand.
The ECB highlighted growing vulnerabilities in residential real estate -- especially for countries where pre-pandemic valuations were already elevated.
It said that market is "more prone to a correction," while also warning that investment funds, insurers and pension funds could face "substantial credit losses" if their exposure to lower-rated corporate debt sours.
"The markets for equity and risky assets have maintained their striking buoyancy, making them more susceptible to corrections," ECB Vice President Luis de Guindos said in the report. "There have been examples of established market players exploring more novel and more exotic investments. In parallel, euro-area housing markets have expanded rapidly, with little indication that lending standards are tightening in response."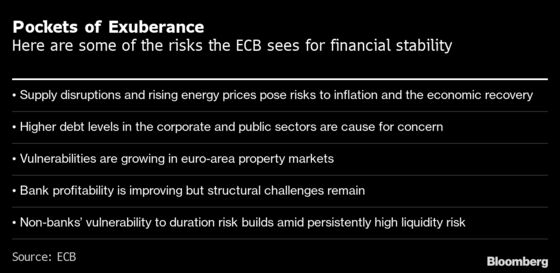 The economic revival from Covid-19 has been a stabilizing factor. The risk of high corporate-default rates and bank losses has fallen "significantly," while record-low interest rates have eased concerns over debt sustainability, according to the ECB.
But disruptions to global supply chains and the specter of new lockdowns to stem the latest virus wave present fresh challenges. "The pandemic continues to be one of the main risks to economic growth," it said.
Beyond Europe, uncertainties include a slowdown in China, even if problems experienced by indebted property developer China Evergrande Group have only had limited effects on the outlook so far, according to the report.
At home, while the ECB sees economic momentum easing, output is still "likely" to surpass pre-pandemic levels in the fourth quarter. It underlined the risk posed by stubbornly high inflation, though didn't elaborate on monetary policy before a key meeting in December.
"If persistent bottlenecks feed through into higher-than-anticipated wage rises or the economy returns more quickly to full capacity, price pressures could become stronger," the ECB said. "A more-persistent high-inflation scenario could translate into an untimely tightening of financial conditions, weighing on the economic recovery."
Read more:
Early Tapering Is a Risk to Spanish Banks, Bank of Spain Says