ECB's Guindos Upbeat on Economy Despite Financial Stability Risk
The European Central Bank is relatively upbeat on the economic outlook as it prepares for a crucial monetary policy meeting next month, despite mounting risks to financial stability from overvalued asset prices.
The risks to the economic outlook "are much more balanced than in the past," ECB Vice President Luis de Guindos said in an interview with Bloomberg Television. "Vaccinations are gaining momentum everywhere in Europe, and we are catching up, we are bridging the gap."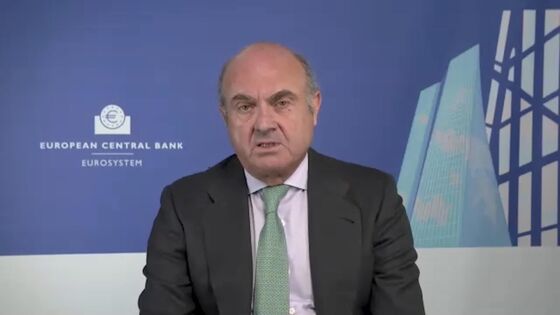 The ECB's Governing Council will meet on June 10 to review updated forecasts and judge whether it should start to scale back its emergency bond-buying program. Purchases were stepped up this quarter to counter rising borrowing costs driven by the faster U.S. recovery.
Guindos said policy makers will take into account a wide range of uncertainties, including new virus strains and risks to some emerging markets. He also noted the mounting risks addressed in the ECB's Financial Stability Review, which was published Wednesday.
That report commented on the dangers of high debt burdens and "remarkable exuberance" in markets -- language which echoed former Federal Reserve Chairman Alan Greenspan's "irrational exuberance" comment during the dot-com bubble in the 1990s.
It highlights concerns that the flood of fiscal and monetary stimulus needed to fight the crisis is also building up dangerous imbalances. Guindos sad the ECB sees "some segments of overvaluation," but no asset bubble so far.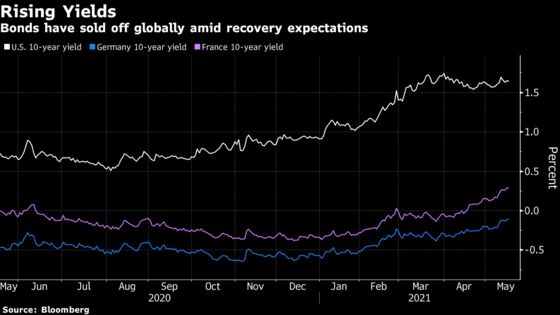 Still, the ECB warned that if more upward surprises in U.S. inflation prompt investor bets on earlier monetary tightening, driving up bond yields without an accompanying improvement in economic growth, "spillovers from U.S. equity market repricing could be substantial."
Rising yields would depress bond prices and weaken balance sheets at the region's banks -- which have long suffered from feeble profitability.
"A 10% correction in U.S. equity markets could therefore lead to a significant tightening of euro-area financial conditions, similar to around a third of the tightening witnessed after the coronavirus shock in March 2020," it said.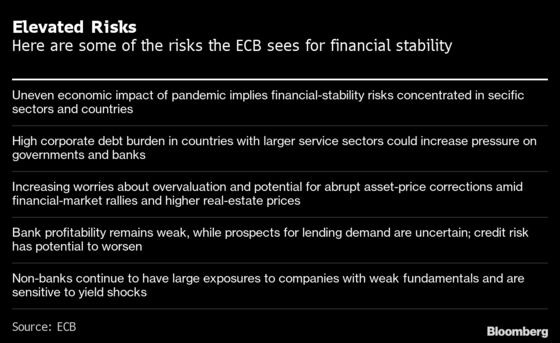 While the Fed has rebuffed suggestions of imminent tightening, some investors are betting that it'll need to scale back support sooner rather than later. U.S. consumer prices rose in April by the most since 2009, prompting officials to insist that such spikes are likely to be transitory.
Over the longer term, Guindos said the ECB won't shy from withdrawing support once the pandemic crisis has passed.
"If there is a normalization of the current situation, if the pandemic is over, if the economic recovery is there and is gaining momentum and inflation goes towards our target, we have been very clear that our emergency program -- the PEPP program -- is a temporary," Guindos said. "We'll have to take the consequences and decisions to deal with the new situation."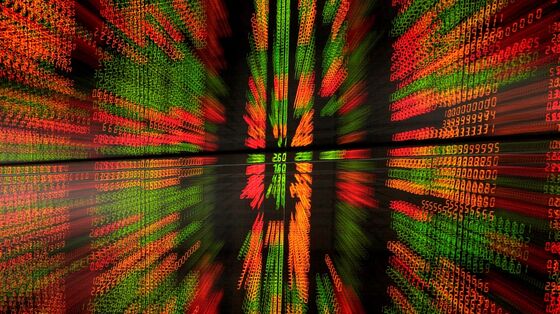 The ECB report also noted "exuberance" in crypto-assets, stating that "the surge in Bitcoin prices has eclipsed previous financial bubbles like the 'tulip mania' and the South Sea Bubble in the 1600s and 1700s." Still, it concluded that with such assets not widely used for payment, and with banks having limited exposure, the financial stability risks "appear limited at present."
The central bank highlighted other risks facing the economy, including slack in the labor market and subdued investment which could lead to a sluggish recovery. It also included a new analysis of climate-related risks, which affect a "significant share" of bank loans to companies.
The ECB said the uneven economic impact of the pandemic means financial stability risks are likely to materialize in sectors and countries with higher pre-existing vulnerabilities.