ECB Tussle for Key Jobs Raises Prospect of Irish Resurrection
(Bloomberg) -- Ireland, the only founding member of the euro never to hold a top European Central Bank job, is suddenly in the running for two.
Sharon Donnery, the Irish central bank's deputy governor, is frequently cited as favorite to be lead the ECB's bank-supervision arm when that position is decided soon. Governor Philip Lane is seen as a contender to join the Executive Board next year -- or even as a long shot for the presidency.
While both are well-qualified, politics will rule the day, meaning Ireland needs canny negotiating skills as European Union members carve up senior roles over the next 12 months. Winning both positions is possible but difficult, according to two people familiar with the EU process who asked not to be named.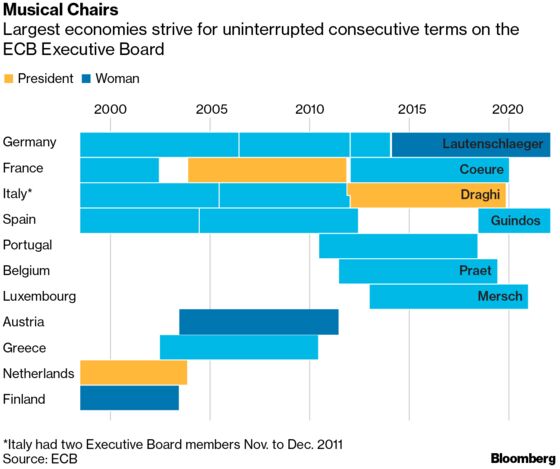 The nation can punch above its weight though. Dublin narrowly lost to Paris for the right to host the European Banking Authority when it leaves London after Brexit, and Lane was the European Parliament's preferred option for the ECB vice presidency before he withdrew in favor of Spain's Luis de Guindos. Eight years since Ireland was bailed out by its euro-area peers, the upcoming posts also present the EU with a chance to show that economic reforms and top-notch candidates get rewarded.
"It is obviously a little unlikely that both will be appointed, but I think there's a sense that they are highly qualified and from a country that has done very well in sorting out its economic problems," said Stefan Gerlach, chief economist at EFG Bank AG and a former deputy governor of the Irish central bank. "It would be a bit of a resurrection of Ireland in Europe."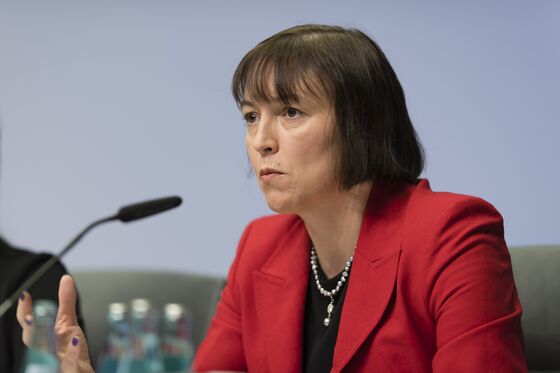 While most EU posts are decided by governments, the ECB gets to nominate the chair of the Single Supervisory Mechanism itself. After years of being criticized for gender imbalance, it's said to prefer to appoint a woman to succeed Daniele Nouy on Jan. 1.
Donnery is the only woman known to have applied. She holds a Master's in economics from University College Dublin, chairs the ECB task force on non-performing loans, and was praised by Nouy as having a "very strong" supervisory background. Irish Finance Minister Paschal Donohoe said she's an "exceptional candidate."
While some ECB colleagues are disappointed she wasn't tougher on bad credit in Ireland, where soured debt still makes up about 14 percent of banks' loan books, she looks hard to beat. Male candidates include EBA Chairman Andrea Enria and Robert Ophele, chairman of France's Autorite des Marches Financiers.
Should Donnery win, Lane's chances of a board seat look slimmer, though alternative scenarios can be imagined. One is that Enria gets the SSM, Donnery replaces him at the EBA, and Lane succeeds Peter Praet, the ECB board member responsible for economics, when the Belgian's term ends in May.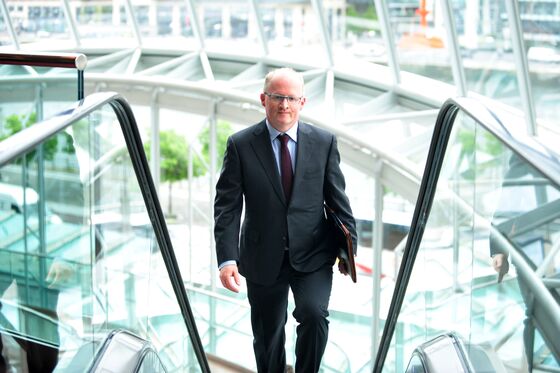 Lane saw his public profile boosted this year when he unexpectedly challenged Guindos for the ECB's second-highest office. His subsequent withdrawal led to speculation that governments will instead back him to get Praet's job next year.
The 49-year-old has headed the Irish central bank since November 2015, and led a high-powered group designing potential European safe assets.
He received a doctorate from Harvard and served as economics professor at Dublin's Trinity College, his alma mater. He held the Whately Chair of Political Economy -- a prestigious 200-year-old position -- before the age of 40.
Lane hasn't been immune to criticism, in particular over his slowness in reacting to a mortgage-overcharging scandal. John McGuinness, chair of the Irish parliament's finance committee, told Lane he was "hoodwinked" by bankers.
"There are very few economists of his caliber in Europe," said Stephen Kinsella, an economist at the University of Limerick who studied under Lane at Trinity College in Dublin. "There's a theory that if Donnery gets one position, that automatically knocks Lane out for the other, but there hasn't been sufficient attention paid to what an exceptional candidate Lane would be."
The ECB should publish a shortlist of SSM candidates in coming weeks. The Governing Council will then nominate one person by secret ballot, who'll be vetted by lawmakers and -- assuming no complications -- signed off by governments. Euro-area finance ministers probably won't fully start the process for selecting the next ECB board member until after that decision.
"I would of course hope both of them will be appointed," said Gerlach. "That would send a signal to Ireland that if you appoint policy makers with technical expertise in central banking and regulation, then you can have an impact at the European level."