ECB to Talk Stimulus as Virus Lockdowns Return: Decision Guide
(Bloomberg) -- European Central Bank officials must decide on Thursday whether the renewed wave of coronavirus infections and lockdowns on the continent require an immediate dose of extra monetary support.
Most economists and investors reckon President Christine Lagarde and her colleagues can get away with holding steady for now, instead sending a strong signal that more stimulus is coming in December.
It's a tricky balance though. Policy makers are meeting just hours after Germany and France introduced tough new restrictions to contain the pandemic. Italy and Spain have already imposed partial lockdowns.
The result is that bars, restaurants and retailers are shuttered across wide parts of the 19-nation euro zone, threatening another economic slump and putting government budgets under strain.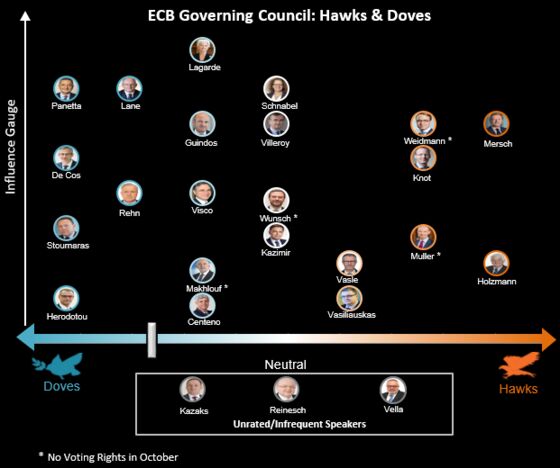 Shortly before the decision, a European Commission sentiment index showed that the recovery in euro-area economic confidence came to a halt in October, even before the new restrictions.
Still, economists surveyed by Bloomberg last week said the ECB will probably wait until December before acting, and this week they stood by that view.
"I don't think the Governing Council is ready" to agree new measures, said Florian Hense, an economist at Berenberg. "Maybe we'll hear more clearly that something is coming."
The ECB announces its decision at 1:45 p.m. Frankfurt time, and Lagarde will hold a press conference 45 minutes later.
In the survey, economists said the ECB's 1.35 trillion-euro ($1.6 trillion) pandemic bond-buying program will be boosted by 500 billion euros at the final meeting of the year. They also expect it to be extended by six months, until the end of 2021.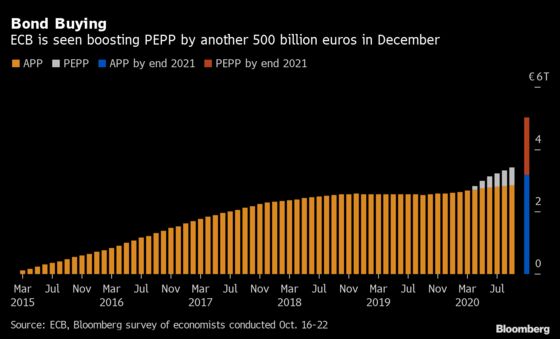 While the chances for a surprise early announcement have risen, there are reasons to wait. Less than half the money has been spent so far, so the ECB has plenty of room to react in the short term by speeding up the pace of buying. Officials may also want time to judge the impact of the new social restrictions, as well as the U.S. election and Brexit negotiations.
What Our Economists Say:

"The clouds are darkening over the euro-area economy and European Central Bank President Christine Lagarde will have to acknowledge that at the next press conference."

--David Powell and Maeva Cousin. Read the ECB PREVIEW
There's little hope left that the economic rebound over the summer will continue though. A contraction this quarter is all but certain, with the services sector already shrinking again and companies bracing for worse to come.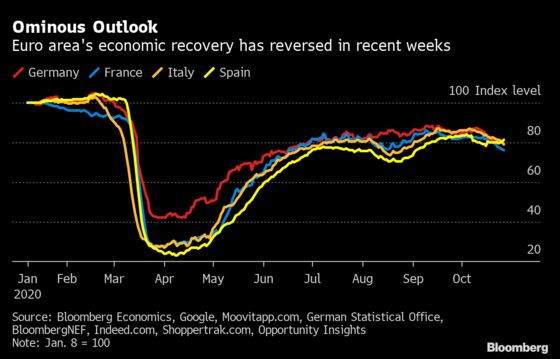 "The economic picture has definitely gotten worse," said Carsten Brzeski, chief economist at ING Germany. "With France back in a nationwide lockdown and Germany closing large parts of its economy, a double dip in the euro area cannot be avoided."
The deteriorating economy means inflation -- the ECB's core concern -- will take even longer to revive. The rate has been negative since August and is expected to remain below zero for the rest of the year.
Especially troubling is the longer-term outlook. Economists see inflation averaging just 1.5% in 2023, well below the ECB's goal.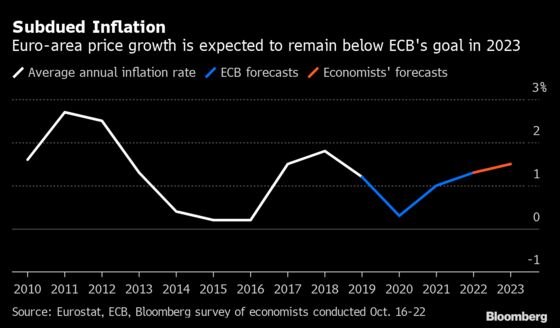 Lagarde is likely to welcome governments' signals that more fiscal support is on the way. She has repeatedly insisted that the central bank -- which has effectively cut sovereign borrowing costs to record lows -- and public authorities must work in harmony.
"My base case is that more easing is needed, but there is no urgency to do it yet," said Imogen Bachra, European rates strategist at NatWest Markets Plc. Still, the rapid spread of lockdowns is "definitely a risk."