ECB Study Finds Stimulus Eased Rather Than Worsened Inequality
(Bloomberg) -- Unprecedented stimulus by the European Central Bank helped ease income inequality in the euro zone, with poorer households benefiting most, according to a study.
A paper published Wednesday shows that negative interest rates and large-scale bond purchases have made a significant contribution to reducing unemployment, especially at the lower end of the pay scale. With their findings, the economists -- working at the ECB and Princeton University -- are refuting criticism that unconventional policy has mainly supported the rich by boosting prices for real estate or stocks.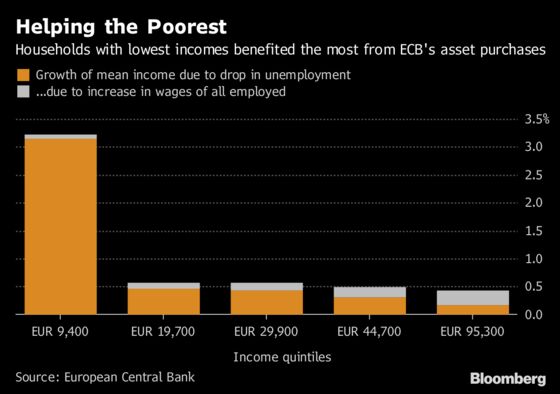 Quantitative easing had mostly indirect effects on euro-area consumers, facilitating a job-rich recovery that raised income in the 19-nation region.
The impact of record-low interest rates is slightly more diverse, according to the researchers, who based their conclusions on observations in the bloc's four biggest economies of Germany, France, Italy and Spain.
While poorer households have been largely unaffected by low rates, those with savings suffered losses. Those losses are more than offset though by higher wages brought about by a faster growing economy.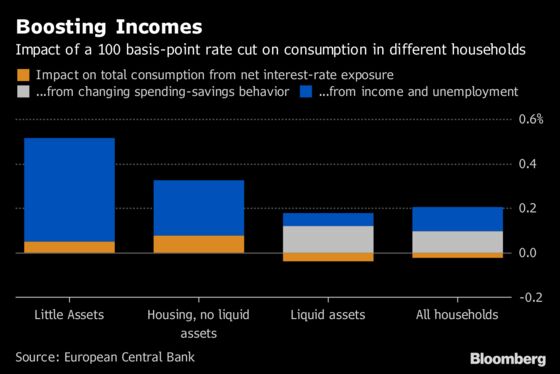 "In contrast to direct effects, indirect effects are beneficial for all households, because everyone benefits from the increase in wage income following a monetary-policy easing," the economists wrote. "In terms of the overall outcome, indirect effects are quantitatively more important."
The findings provide ECB President Mario Draghi and his colleagues with important arguments in addressing critics in countries including Germany and the Netherlands, who accuse the central bank of penalizing savers and aggravating old-age poverty.
In a sign that skepticism against unconventional policy is reaching into the highest circles of government, former German Finance Minister Wolfgang Schaeuble said last year that policy makers are stoking distrust in European institutions and are responsible for a rise in populism.
The study, which doesn't necessarily represent the views of the ECB, concludes that inequality in the euro zone is mostly a structural phenomenon, with wealth and income driven mainly by other factors that monetary policy.