ECB Officials Signal Growing Support for Bank Dividend Return
(Bloomberg) -- A growing number of top European Central Bank officials are voicing support for ending the de facto ban on banks paying dividends during the pandemic, laying the groundwork for a resumption next year and a return of investor confidence to the sector.
Bank of France Governor Francois Villeroy de Galhau on Friday became the third ECB governing council member this week to signal support for a resumption in payouts. Their comments will influence the debate on whether to end the ban at a meeting of the central bank's supervisory arm next month.
European lenders, which saw their shares lag the market this year, have repeatedly warned that extending the measure would risk cutting them off from investors. Yet despite optimism that the end of the pandemic is in sight, some regulators are worried that if they allow payouts, banks may lack the financial reserves to bear losses without taxpayer bailouts.
"The ECB lives from expectations and the comments on dividends from policy makers these last days have clearly helped banking stocks," said Markus Herrmann, a banking analyst at Landesbank Baden-Wuerttemberg in Stuttgart. "But I don't think investors should be too optimistic."
Villeroy told a conference of regulators that while it was right to put all profits into reserves in 2020, there are now arguments in favor of resuming payouts. ECB Executive Board member Fabio Panetta earlier said banks should be prudent, but it would be reasonable to take a case-by-case approach.
The 22-member Euro Stoxx Banks Index rose as much as 1.3% and was up 0.9% and as of 11:20 in Frankfurt on Friday. It has slumped 22% this year, making the industry the second-worst performer on the Stoxx Europe 600 Index after energy.
The policy makers didn't spell out when the ban would be lifted or whether banks would be free to pay out as much capital as planned. The ECB's supervisory arm will decide on the details next month, although that plan needs to be signed off on by the Governing Council.
"A full return to dividends early in the year just doesn't feel likely," said Herrmann.
The ECB highlighted the challenges facing banks this week when it said lenders may need to put even more money aside against the risk of souring loans as the pandemic further depresses the economy. Vice President Luis de Guindos said institutions' assumptions had been too optimistic in some cases.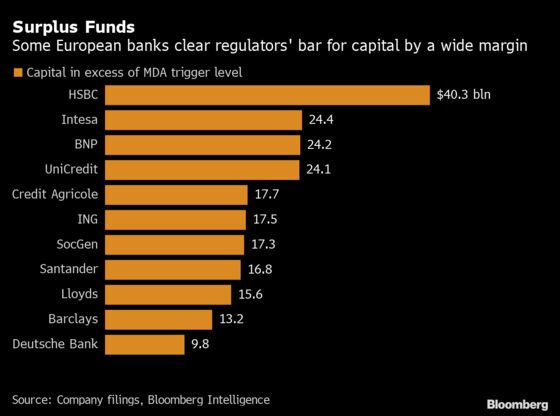 French banks have been some of the most ardent lobbyists for lifting the ban. Societe Generale SA Chairman Lorenzo Bini Smaghi said this week that the restriction is "scaring investors from entering the banking sector" and could backfire by making taxpayers the only source of capital if lenders run up losses.
Villeroy showed understanding for that position, saying that it's vital for French banks to be attractive to investors in order to raise funds in the future.
"This is all the more the case as most jurisdictions outside of Europe seem to at least be moving toward a controlled liberalization," he said at a conference of French banking supervisory body ACPR.
British regulators have signaled to banks that they'll consider softening their resistance to dividends payouts on a case-by-case basis by early next year, Bloomberg reported earlier this month. Elsewhere, the U.S. opted for the more pragmatic option of capping bank payouts while Switzerland asked banks to split them over two payments spread over 2020.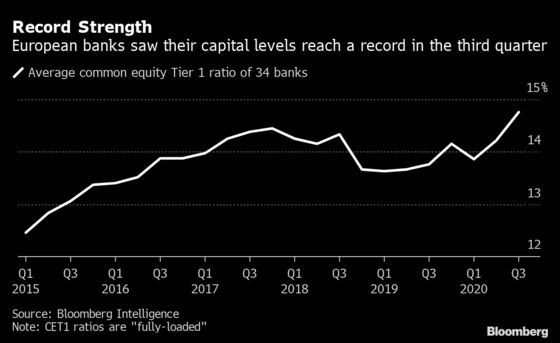 The ECB could opt to extend the dividend freeze, lift the ban entirely, or limit dividend payouts. On Wednesday, ECB official Yves Mersch said banks may be allowed to pay dividends if their balance sheets are strong enough to survive the pandemic, the Financial Times reported.
For Panetta, the ongoing uncertainty about the economic outlook is a big part of the decision, but he said that an overly cautious approach "might mean a cost to the banks."
"I believe that a reasonable solution, as economic conditions improve, would be a case-by-case approach by banking supervisors," he said in an interview in Portuguese newspaper Expresso.
There's agreement between regulators and industry representatives that the path toward resuming payments to investors will have to be carefully calibrated.
"No one wants banks to pay dividends and shortly after have to ask for state aid," said Christian Ossig, chairman of the European Banking Federation's executive committee, said at an online conference on Wednesday.
Read More:
German Watchdog Damps Hopes for Return to Large Bank Payouts