ECB Sees Inflation Above 2% Next Year Though Can't Agree on 2023
European Central Bank policy makers expect inflation to exceed 2% target next year but hold different views on whether it will stay there in 2023, according to people familiar with the talks, a debate fundamental to the institution's forward guidance. 
Chief Economist Philip Lane insisted at the decision on Thursday that the path for consumer prices will fall back below the goal after 2022 and that underlying pressures won't be strong enough, according to the people who spoke on condition of anonymity because the deliberations are private. A few others countered that it might exceed that level and cited the risk of second-round effects, they said.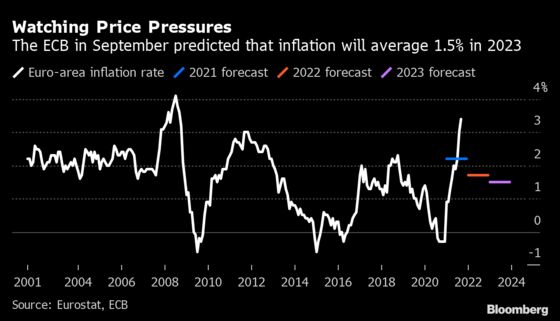 All policy makers agreed that current market pricing showing interest-rate increases next year is unfounded, the people said. 
The debate matters because in December, they will have new forecasts that include 2024 for the first time and which will be fundamental to the ECB's forward guidance unveiled in recent months, along with its new higher consumer-price goal. 
Officials won't consider increases unless projections show inflation at the 2% target within 12 to 18 months, according to Bank of France Governor Francois Villeroy de Galhau. The ECB's guidance then requires that price increases remain "durably" above that level. 
President Christine Lagarde told reporters on Thursday that "while inflation will take longer to decline than previously expected, we expect these factors to ease in the course of next year." Officials still foresee price increases remaining below 2% in the medium term, she added. 
If the next forecast exceeds the goal both next year and in 2023, that would be markedly higher than the projection in September, which showed inflation falling to 1.7% in 2022 and 1.5% thereafter, raising the prospect that the ECB's threshold for rate increases could be reached. 
An ECB spokesman declined to comment on the discussions on Thursday.