ECB Sees Full-Capacity Economy Still on Track to Boost Inflation
(Bloomberg) -- Euro-zone companies are increasingly running into capacity constraints that will boost inflation, the European Central Bank said in a report.
That outlook should provide some solace to governors as they prepare to decide whether to halt their bond-buying program this year as planned. A slew of disappointing data have shown the euro-area economy losing momentum, with the latest measure on Monday putting investor sentiment at the weakest in more than two years.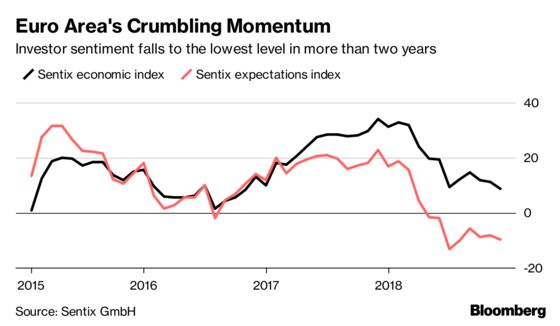 The 19-nation economy has consistently expanded at a faster pace than estimates of its long-term potential, leading to a gradual shrinking of economic slack, according to the ECB report.
"Supply constraints are expected to become increasingly binding going forward, which would be conducive to a gradual strengthening of wage growth and underlying inflation," ECB researchers Malin Andersson, Bela Szorfi, Mate Toth and Nico Zorell wrote in the article. "The ongoing economic expansion appears to have largely absorbed the spare capacity created by the global financial crisis and the sovereign debt crisis."
The ECB report came just before Sentix published its gauge of investor confidence, which slumped to 8.8, the poorest reading since October 2016. Data last week showed the euro-zone grew just 0.2 percent in the third quarter, half as much as economists had predicted.
At the same time, inflation quickened in October -- boosted by higher energy costs but with a pickup in underlying price pressures as well. The ECB will hold its final policy meeting of the year on Dec. 13.
The researchers said potential growth has been underpinned by an expansion of the labor force, a decline in unemployment and stronger productivity gains. Capital formation has accelerated but remains weaker than before the crisis.