ECB Warns Against Fiscal Splurge as Italy Prepares Populist Rule
(Bloomberg) -- The European Central Bank warned high-debt countries in the euro area against loosening their purse strings as populists prepare to take power in Italy with a promise to boost government spending.
"A deteriorating growth environment or a loosening of the fiscal stance in high-debt countries could impact the fiscal outlook and, by extension, market sentiment toward some euro-area sovereign issuers," the Frankfurt-based institution said in its twice-yearly Financial Stability Review. "Despite the overall favorable developments in recent quarters, some euro-area sovereigns remain vulnerable."
The shot across the bows of Italy comes a day after Giuseppe Conte, a law professor with no political experience, was given the mandate to form a new Italian government that will satisfy his populist sponsors. Sovereign-bond yields in the euro area's third largest economy have surged in a sign that investors are concerned about the fiscal plans in a country already grappling with the highest debt load in the region.
Rising yields in Italy are "not a huge development but certainly a significant development and a cause of concern," ECB Vice President Vitor Constancio told reporters in Frankfurt. "Italy should keep within the European rules regarding fiscal policy" because "it's in its own interest."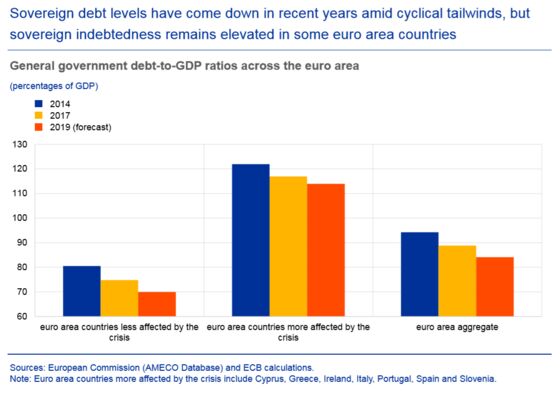 In the report, the ECB also warned that increased risk-taking in most financial markets requires close attention. While no broad-based misalignment in prices of financial assets in the euro area was visible over the past six months, "pockets of stretched valuation" are appearing for lower-rated bonds and in some real estate markets.
"Developments in financial markets continue to signal growing optimism about the economic outlook, but vulnerabilities are building up in global markets," the ECB said in the report. "A surge in volatility in U.S. stock markets in early February underscored the fragility of current market sentiment."
The ECB listed four main risks to financial stability in the euro area over the next two years:
Spillovers from a disruptive repricing of risk premia in global financial markets
A potential hampering of the ability of banks to intermediate amid weak financial performance compounded by structural challenges
Public and private debt sustainability concerns amid historically high debt levels
Liquidity risks that could emerge in the non-bank financial sector
The central bank's warning about financial-market vulnerability comes amid expectations that policy makers are preparing to end their bond-buying program at the end of the year. The Governing Council holds its next policy meeting on June 14.