ECB Says EU Fund Could Boost Economy by Either 1.5% or Almost Nothing
(Bloomberg) -- Euro area governments could boost the region's economy by as much as 1.5% -- or next to nothing -- depending on how they spend a groundbreaking stimulus package, according to European Central Bank research.
The European Union 750 billion-euro ($908 billion) recovery fund will deliver its greatest impact by being used on "productive public investment," which would boost wages and private investors' returns, the ECB said in a paper on Thursday. The effects would peak in 2025 and linger "beyond the horizon" of the EU project, it said.
Opting to hand cash to citizens directly or using EU funds to reduce debt would have a much weaker impact on economic growth, the ECB said.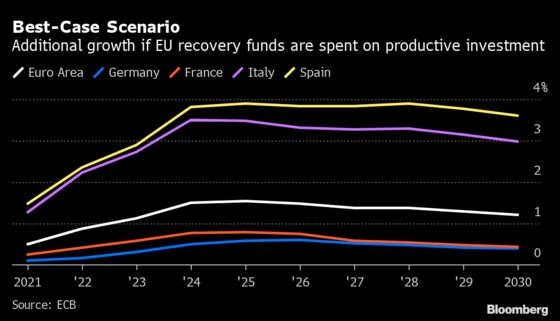 The recovery fund, consisting of a mix of grants and loans to finance a rebound from the bloc's deepest slump on record, is supposed to be spent to a large extent on financing digital infrastructure and the transformation to a greener economy. The European Commission is currently in discussion with member states on their spending plans.
The euro area needs all the help it can get after the International Monetary Fund this week predicted it will recover more slowly from the pandemic than other regions around the world. It's fallen behind the U.S. and the U.K. with its vaccination effort while fighting stubbornly high infection numbers.
The ECB paper warned that many countries may not have the "institutional capacity to select and execute viable projects."
The researchers simulated the effects of the two alternative uses of money -- fiscal transfers to the general population and the reduction or replacement of national debt with EU funds. The ECB said that actual policies could be a mix of all three.
Paying down debt would be the second-best option overall as it would at least have a persistent, positive impact on economic output -- companies and households could expect a reduction in financing costs, the ECB said. By contrast, fiscal transfers would boost the economy only by 0.25% for a short time, making it the least preferable alternative.