ECB's Wunsch, Weidmann Say New Rate Guidance Goes Too Far
(Bloomberg) -- The European Central Bank's new guidance on how long it'll keep interest rates at record lows is too far-reaching because it doesn't sufficiently account for trade-offs that officials may have to consider, according to Belgian policy maker Pierre Wunsch.
"My concern is that we can't credibly commit, which is the reason for my dissent," Wunsch said in an interview. "I don't know whether it will be proportionate to still have negative rates in three, four, five or seven years."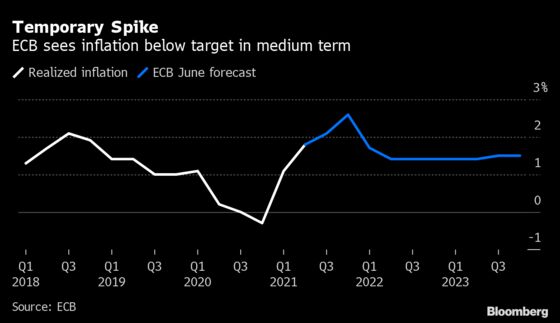 The comments elaborate on the split in the Governing Council over Thursday's meeting, with Bundesbank President Jens Weidmann also objecting to the new language. Weidmann told Germany's Frankfurter Allgemeine Zeitung in an interview published Friday that the guidance goes too far -- and also said that his experts foresee German inflation approaching 5%, if temporarily, near the end of this year.
In contrast, Bank of France Governor Francois Villeroy de Galhau backed the decision and said the central bank won't consider rate hikes unless its projections show euro-area inflation at the 2% goal within 12 to 18 months.
There was also a push to weaken the link between interest rates and the eventual end of quantitative easing, a debate that was ultimately put off.
The ECB altered its commitment on rates to align it with a new strategy which aims to end the years-long pattern of falling short of its price-stability goal.
The Governing Council vowed to be persistent in providing stimulus until inflation is forecast to be in line with its target of 2% "well ahead" of the end of the projection horizon, stay there until the end of the horizon, and be supported by "sufficiently advanced" underlying price dynamics.
Economists interpreted the revised guidance to mean the ECB is likely to keep its exceptionally expansive policy around for longer as it seeks to spur inflation.
ABN Amro's Nick Kounis and Aline Schuiling said interest rates could be on hold until 2024, with the asset purchase program -- dubbed APP -- continuing for much of that time span. Oxford Economics postponed its forecast for a rate rise by half a year to early 2025.
The ECB's survey of professional forecasters on Friday showed that analysts expect inflation to average 1.8% in 2026.
Wunsch said there was "not a completely marginal possibility" that the ECB will fail to reach its objective and get stuck at inflation around 1.5% to 1.8%. Yet a side effect of much longer accomodative policy could be that governments fail to adhere to European Union limits on how much debt they can take on, because negative interest rates depress their borrowing costs.
"I pleaded for an escape clause," Wunsch said. "It would have made clear that we expect something, but we will do a proportionality assessment and we will have an escape clause if it's not OK anymore."
The ECB was reminded of the importance of considering the side effects of its policy in a 2020 ruling by the German constitutional court. Judges gave public officials three months to show that the multi-trillion-euro asset-purchase program that was started in 2015 is proportionate to its impact on the economy.
What Bloomberg Economics Says....

"We anticipate the Governing Council will opt for providing more monetary stimulus rather than simply delaying normalization. This will likely come in the form of more asset purchases."

-David Powell and Maeva Cousin. Read the full REACT
Villeroy's remarks on Friday built on ECB President Christine Lagarde's comment a day earlier that inflation must be at 2% at the "midpoint" of the forecast horizon, which covers the next two to three years.
"To consider raising rates, we must have meeting 2% within close sight. That means to the naked eye rather than long-sighted," Villeroy said on BFM Business radio. "I'll be very concrete: The projection horizon is 2 to 3 years so that means in practice 12 to 18 months."
He also said the current economic situation means loose monetary policy is "totally justified."
That's a point on which Wunsch concurred, saying "there is consensus on the fact that we need to be supportive in this phase of the recovery."
Wunsch said the ECB's 1.85 trillion-euro ($2.2 trillion) Pandemic Emergency Purchase Program should end in March as planned, while policy makers should remain "open and flexible" and consider cliff effects.
The ECB didn't discuss how to adjust that program or its older Asset Purchase Program. Villeroy said such stimulus will be discussed later this year.
"In the autumn policy meetings we will look at the PEPP, we will look at the APP and we will also look at forward guidance on the assets themselves," Villeroy said. "One thing at a time, but the ECB has shown it knows how to decide."