ECB's Villeroy Sees Path to Crisis Exit by March Next Year
The European Central Bank could end its pandemic emergency program within less than a year while adapting its monetary policy tools to keep supporting the economy after the crisis, French Governor Francois Villeroy de Galhau said.
"We could possibly exit PEPP by March 2022," the Bank of France chief told Anna Edwards and Mark Cudmore in a Bloomberg Television interview on Wednesday. "It would not mean an abrupt tightening of our monetary policy, reinvestments under PEPP would go on. We could also have net asset purchases with our other program."
Villeroy's comments add to a public conversation among Governing Council members on how and when the ECB could withdraw massive crisis-era stimulus as an economic rebound takes hold. His Dutch colleague says PEPP could begin to be phased out as soon as the third quarter, while other policy makers have warned against any sharp changes.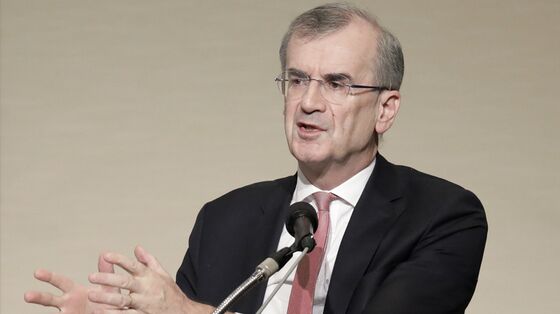 "Our monetary policy should remain accommodative for the years to come, but our combination of instruments could evolve," Villeroy said. "We could also have net asset purchases with our other program, APP, possibly somewhat adapted, and we would have the full range of what I call the quartet of our instruments."
The governor listed those tools as being the ECB's Asset Purchase Program, negative interest rates, liquidity measures such as TLTROs, and forward guidance.
This would facilitate "a possible exit by March 2022, but a quartet of instruments allowing us to run an accomodative monetary policy," Villeroy said, adding that "we're not yet there. We have time to judge."
ECB President Christine Lagarde said at a separate event on Wednesday that the economy will require support from policy makers "well into the recovery."
Villeroy said that the ECB could consider enhanced forward guidance making it clear that the institution will let inflation overshoot its 2% target.
Complicating the calculation of the outlook is the slow deployment of the European Union's 750 billion-euro ($897 billion) recovery fund, while the alacrity of the U.S. $1.9 trillion stimulus plan is pushing bond yields higher. To counter spillover of higher financing costs to a weaker European economy, the ECB was forced to significantly step up the bond buying in its PEPP program.
Villeroy said European governments do not need to increase the overall size of stimulus however, as last year's impulse was similar to the U.S. and there are still national measures in the pipeline in addition to the EU fund.
"We should implement swiftly the so-called Next Generation fund, the 750-billion package," the governor said. "Speed is still more important than weight. It should come as quickly as possible."
ECB Vice President Luis de Guindos, speaking to the European Parliament on Wednesday, concurred. It's "of the utmost importance that the NextGenerationEU plan becomes operational without delay," he said.
Read more...
Biden 21% Minimum Tax Undercuts Global Talks, EU Lawmakers Say