ECB's Top Applicants in Slovenia Couldn't Differ More on Euro
(Bloomberg) -- The top two candidates for Slovenia's open seat at the European Central Bank couldn't be further apart on the subject of the euro zone.
Both are economics professors at the University of Ljubljana but while one, Igor Masten, has written papers on its monetary policy, the other, Joze Damijan once called the currency "dead."
The contest between them is bringing scrutiny to what in many countries is a straightforward process. Normally, euro-area member presidents or governments appoint a central bank governor, who also holds a post on the ECB's Governing Council. Sometimes they need additional approval from lawmakers. But in Slovenia, anyone can apply.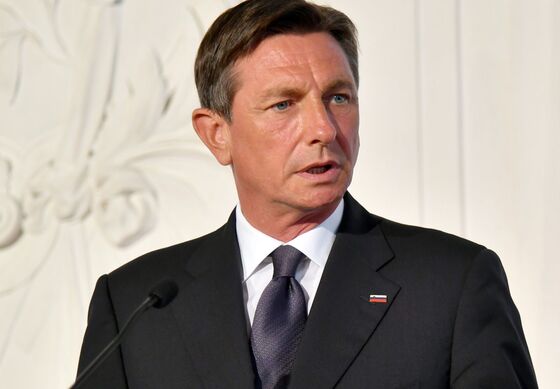 That's put President Borut Pahor in a tough position after lawmakers shot down his first nominee. The president is meeting political parties to see if one of them can muster majority support for approval in the 90-seat parliament and may have a nominee as early as Tuesday.
Masten, who led the central bank's research department under former Governor Bostjan Jazbec, who resigned in May, has the more traditional views on the euro. He has published papers on the currency, including one titled "Shadow Short Rate and Monetary Policy in the Euro area" in 2016.
Damijan has derided the currency bloc and called for it to be disbanded. It's unclear if that remains his opinion and he wouldn't comment until the selection process is over.
"The euro is dead," Damijan said in an interview with the newspaper Mladina in 2016. "It was a big mistake. It buried European integration. If we did not have the euro and nonsensical rules on fiscal consolidation, the crisis in the EU would quickly pass. The euro must be dispersed in a controlled manner to minimize the negative effects."
Regardless of his personal opinion, Damijan "in practice he will realize that he's got little room to maneuver," said Bostjan Udovic, the chair of international relations at Ljubljana University's Faculty of Social Sciences.
Without a permanent head to its central bank, the former Yugoslav republic has joined two other eastern European countries lacking clarity over their representatives at the ECB. Latvia's governor is fighting bribery charges and Slovakia's said he might resign before his term ends.
While the contrast between Damijan's and Masten's approaches reverberate on the European level, the crux of their competition for the governor's post is a local issue: a dispute over a 2013 taxpayer-funded bailout of the country's biggest banks that slapped investors with losses when their bonds and shares in the lenders were written off.
A group of those investors want their money back, and they're pushing for legislation that will force the state to grant compensation that could reach hundreds of millions of euros. Whoever next controls Banka Slovenije will have influence over that legislation.
Masten, who also declined to comment when contacted by Bloomberg, has defended the 3.2 billion euro ($3.65 billion) banking rescue, noting that the written-down assets were calculated according to an ECB rulebook. Damijan has criticized the bailout, and in 2015 wrote a blog post calling for an investigation.
Prime Minister Marjan Sarec's party favors Damijan. One of his partners in the five-party minority coalition is run by Alenka Bratusek, who was premier at the time of the bailout. It supports Masten. Other parties are still undecided.
"From each, we primarily expect high morale and professional integrity, regardless of his personal beliefs," said Brane Golubovic, the head of Sarec's parliamentary caucus.
Masten's weakness is his connection with Jazbec, whose office was raided by Slovenian prosecutors in a probe into the bailout and who has faced criticism in Slovenian media. Damijan's view of the euro area, which he described earlier this year as an unsustainable project and compared France's concept of fiscal federalism to "Fascism."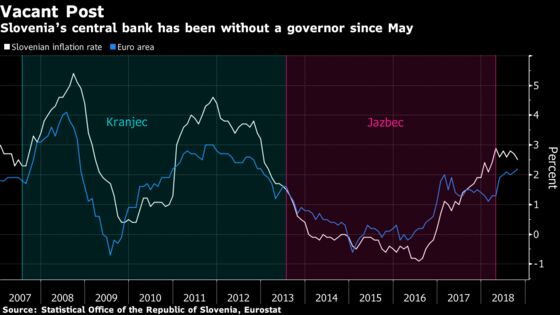 The split between the two top candidates may provide an opportunity for Bostjan Vasle, who leads a state-run economic research institute, to grab the post if none of the others doesn't muster majority backing.
"The appointment of the governor depends primarily on political bargaining," said Marko Voljc, the co-founder of the Adriatic Council, a think-tank based in Ljubljana and Belgrade. "Not the competence and personal qualities for the governor's post."