ECB's Stealth Rate Cut Lures Banks to Fund Virus-Hit Economy
(Bloomberg) -- The European Central Bank's surprise tweaks to monetary policy amount to an effective interest-rate cut that puts banks on the frontline of the euro area economic recovery.
The move to start a new source of funding and lower the rate on long-term facilities designed to promote lending will probably ease the stress in Europe's money markets. And banks, which have been hoarding cash, could then boost lending and ramp up their bond buying to use as collateral for more ECB funds.
The decision marks another push by policy makers to help the economy through the worst shock in decades by stabilizing bond markets and making sure enough cash is finding its way to companies struggling to stay afloat.
The grim outlook facing the euro area was starkly laid out Friday by the ECB, which forecast in a pre-release of its May Economic Bulletin that the region's economy could contract by as much as 12% this year due to the lockdown measures implemented to contain the coronavirus pandemic.
"It's a very important decision," Peter Praet, the ECB's former chief economist, said in an interview with told Bloomberg TV's Francine Lacqua on Friday. "It shows there is action from the central bank to try to stimulate the lending offer from the banking sector."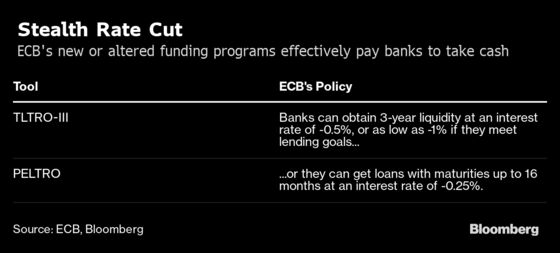 Almost every sovereign bond in the euro zone rallied on Thursday, as did three-month Euribor interest rate futures, which signaled the rate banks use to lend to each other will fall further. Borrowing costs last week were the highest since 2016.
The pandemic has challenged central bankers worldwide to find creative solutions to help their economies. After cutting conventional interest rates for most of the past decade, the ECB's decision is another sign officials see little room to lower these any further.
And economists have warned that a point could come when easing rates hurts rather than encourages lending -- a point known as reversal rate.
"This is the brave new world of reversal-rate economics," said Richard Barwell, an economist at BNP Paribas Asset Management. "You can still cut the rates you charge on loans to banks even if you can't cut the rate you pay on deposits."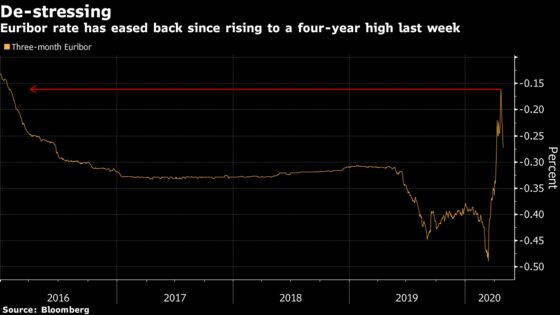 When asked in March why the ECB didn't cut the deposit rate, President Christine Lagarde said other tools were a more "efficient response."
The downside of veering from conventional tools is that it complicates monetary policy. BNP Paribas's Barwell suggests that if the ECB decides to keep altering rates on targeted loans known as TLTROs, then the minimum rate should identified as a benchmark.
That said, the tweak to TLTRO loans -- described by Robeco strategist Martin van Vliet as a "stealth rate cut" -- and the introduction of the pandemic emergency longer-term refinancing operations, are among the least controversial moves the ECB could make, according to Banque Pictet & Cie's Frederik Ducrozet.
The ECB already has a 750 billion-euro ($823 billion) emergency asset purchase program, which Lagarde said she's willing to raise if need be. Most economists in a Bloomberg survey conducted before this week's meeting said they expect the ECB to add 500 billion euros to the program by September.
But right now, the "ECB is determined to focus on the bank channel and address any liquidity issues," Christoph Rieger, head of fixed rate strategy at Commerzbank AG. With long-term loan rates dropped to minus 1% and the rating on collateral in some cases down to BB, "the June TLTRO should be huge!"