ECB's Schnabel Sees Inflation Risks 'Skewed to the Upside'
European Central Bank Executive Board member Isabel Schnabel said there's an increasing threat of inflation taking hold, as she played down the danger that resurgent coronavirus infections might impede the euro zone's recovery.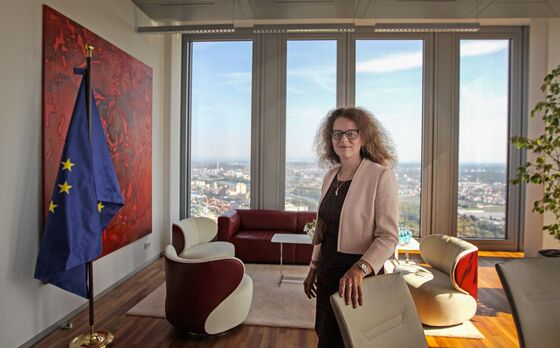 Investors resumed bets on an interest-rate increase next year after her comments in an interview in Frankfurt on Monday, just weeks before a crucial decision on stimulus. 
The German-born official responsible for market operations went on to suggest that an emergency contingency will still be needed even as the future focus of monetary policy possibly shifts away from asset purchases. 
"It's plausible to assume that inflation is going to drop below our target of 2% in the medium term. However, the risks to inflation are skewed to the upside," Schnabel said. "Uncertainty has increased with respect to the pace and extent of the decline" and "we have to take this increased uncertainty into account."
Her remarks follow months of global investor concern at inflation, and precede data next week that may show a new peak in the euro-zone, with price increases possibly surging close to 6% in Germany, its biggest economy. Meanwhile the worsening pandemic there has prompted Chancellor Angela Merkel to seek tougher restrictions on activity. 
"Most recently, we are seeing a rise in Covid-19 infections and some containment measures in parts of the euro area," Schnabel said. "This is likely to have a moderating effect on activity in the short run, in particular in the contact-intensive services sector. But I do not think that this will derail the overall recovery."
Perhaps supporting that economic view, purchasing managers indexes for France and Germany released on Tuesday showed improvement in November. Input costs surged however, and supply delays as well as inflation pressures are weighing on German growth. 
Following those data and the Schnabel interview, money markets resumed factoring in a 10-basis-point rate increase from the ECB in December 2022, after briefly pricing it out last week.
For full transcript of interview, click here 
With such an uncertain economic backdrop, officials should seek to maintain room for maneuver in their upcoming decision on Dec. 16, she added. That meeting has been flagged as pivotal in determining the future of ECB stimulus after its emergency bond-buying measure expires in March. 
The current surge in consumer prices, partly linked to spiking energy costs and global supply disruptions, has stoked a debate among officials over how long it might last and what that means for moving beyond the 1.85 trillion-euro ($2.1 trillion) crisis asset-purchase program, known as PEPP.
"At times of very high uncertainty, it's extremely important to retain some optionality," Schnabel said. "I certainly wouldn't pre-commit over a too long period of time. That would be a mistake."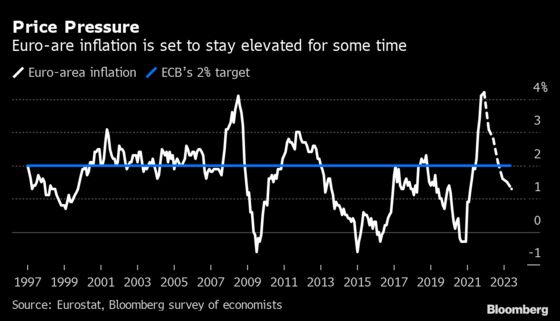 She suggested separating the Governing Council's decision into two questions. 
"The first is: what's the amount of stimulus that is still needed?" Schnabel said. "The second part is: which kind of tools do we want to use in order to provide the stimulus that we find appropriate?"
The ECB's flagship pandemic bond-buying program was launched in the early days of the crisis and did away with many of the restrictions that previously characterized its quantitative easing. That was done to stem market fragmentation between different euro-area countries, following a sell-off in securities of highly indebted issuers such as Italy.
Net purchases under the pandemic program are still expected to end in March, Schnabel said. Asked whether the full envelope will be used, she observed that economists don't generally expect this will be the case. 
Schnabel also sounded a skeptical note on the future role of bond buying in the ECB's arsenal, even as she acknowledged the positive impact it has had so far. 
"There are, on the one hand, diminishing returns to asset purchases and, on the other hand, increasing side effects," she said. "Therefore, eventually, there will be a shift from asset purchases towards other tools, most importantly our forward guidance."
A key issue of contention among ECB policy makers has been whether the extraordinary features granted to the emergency program will be transferred to regular tools when the measure comes to a halt. Schnabel said it's "certainly" important to retain some flexibility to address any potential market fragmentation. 
"Especially in this transition phase, this is important," she said. "The coronavirus crisis phase isn't a black or white thing. Leaving the pandemic will be a process."
Among possible options are a transfer of the flexibility to the ECB's regular quantitative-easing program and the creation of a new facility that would act as an insurance measure. 
Bank of France Governor Francois Villeroy de Galhau has described such a mechanism as a "virtual toolbox" to give the ECB options contingent on circumstances.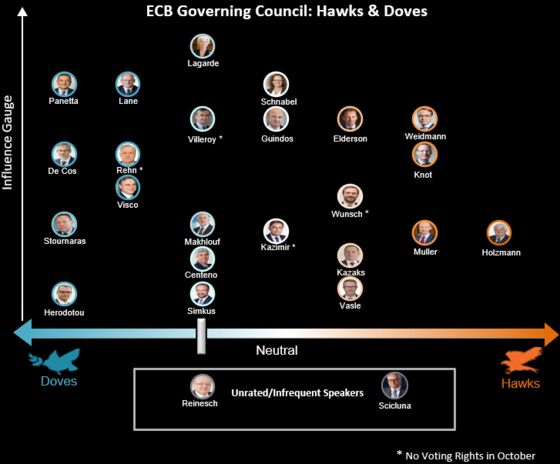 Asked about her preference, Schnabel indicated that the emergency program could continue to play a role in fulfilling the goal even after March. 
"It's important to acknowledge the crucial role of that flexibility," she said. "The PEPP will not disappear once net asset purchases have been reduced to zero. Sometimes people talk about ending the PEPP. The PEPP is not going to end in March. The net asset purchases probably, but not the PEPP as such."
Asked if she would be interested in the job of Bundesbank president to succeed Jens Weidmann when he leaves in December, Schnabel said that she didn't want to feed speculation and was focusing on the ECB's upcoming major decision.