Rehn Says ECB Must Tighten Policy Gradually to Avoid Shocks
(Bloomberg) -- The European Central Bank should normalize its monetary policy at a measured pace to prevent any "unforeseen negative effects," according to Governing Council Member Olli Rehn.
The euro area still needs a stance supportive of employment and growth to ensure inflation "remains on a path consistent with the price-stability objective," Rehn said in a report published by the Bank of Finland on Thursday.
However, he noted that the "dynamic between inflation and economic slack appears to have changed; closing the output gap no longer seems to accelerate the rate of inflation as it once did." The euro-area economy has been growing above its potential pace for some time, and Bloomberg Economics estimates that the gap is almost closed. Nevertheless, core inflation is below 1 percent.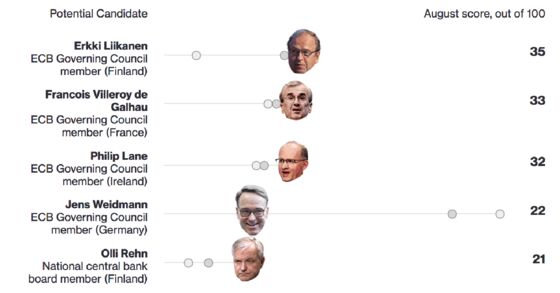 Rehn, seen as a contender to succeed ECB President Mario Draghi next year, also said that the economy's "natural rate of interest may have declined."
That means monetary policy is "tighter than what a historical overview of nominal interest rates might otherwise suggest." Easing out of loose policy gradually would help officials assess the situation closely to avoid surprise shocks, according to the Finnish governor.
Speaking to Bloomberg earlier this week, Rehn highlighted the need for flexibility as the ECB prepares investors for eventual increases in borrowing costs. In his view, stressing policy makers' ability to react to economic conditions is preferable to publishing an outright numerical path of interest rates -- a strategy employed by the U.S. Federal Reserve.
On Thursday, he pointed to other factors the ECB has yet to consider.
"Monetary-policy normalization takes place first and foremost by affecting interest-rate expectations. Short-term rates can be influenced in the current circumstances through forward guidance and by raising the deposit rate," he said, adding that reducing the stock of assets held by the central bank would raise long-term rates. "Both options tighten monetary policy. There are open questions on the order of actions and their timing."