ECB's Praet Says QE End Isn't Reduction of Stimulus
(Bloomberg) -- European Central Bank chief economist Peter Praet said the end of the institution's bond-buying program this year doesn't mean policy is being tightened, as he pointed to "increasingly noticeable" headwinds for the economy.
The message comes as the Governing Council prepares for its Dec. 13 meeting, when it will publish new economic forecasts and decide whether to confirm the end of almost four years of purchases of government and corporate bonds. Praet stressed that the reinvestment of maturing assets will play a key part in ensuring that monetary support remains in place as inflation slowly picks up.
"The end of net asset purchases is not tantamount to a withdrawal of monetary policy accommodation," he said in a speech in Frankfurt on Monday.
Praet acknowledged the recent slowdown in the euro-zone economy, saying that "factors related to protectionism, financial market volatility and vulnerabilities in emerging markets are creating headwinds that are becoming increasingly noticeable."
He also said excess liquidity -- the surplus cash sloshing around in the financial system -- will decline as lenders repay the ECB's long-term loans in coming years. However, reinvestments will "contribute to maintaining favorable liquidity conditions for an extended period of time," ensuring that interbank interest rates remain close to the ECB's deposit rate, currently minus 0.4 percent.
Excess liquidity is currently around 1.9 trillion euros ($2.2 trillion). Praet displayed a slide in his presentation showing that if there were to be no reinvestments, it would fall to about 500 billion euros in March 2021, when the last targeted longer-term refinancing operation matures.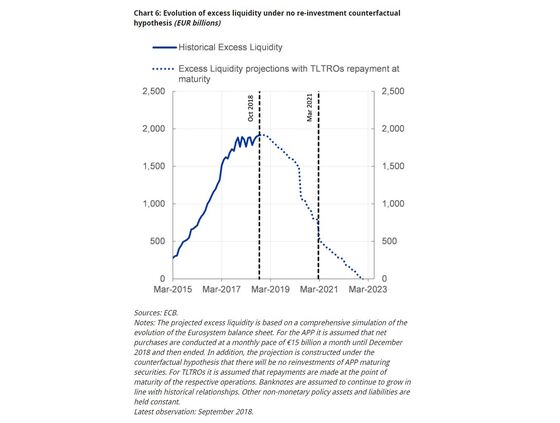 Economists at JPMorgan and Barclays, among others, expect the ECB will offer new TLTROs in coming months. Barclays said in a note on Monday that risks including trade disruption, Italy's budget standoff and slower growth in China make launching a third batch of such loans an effective way to prevent tightening.