ECB's Naysayer Keeps Quiet in New Era of Bundesbank Playing Ball
While Jens Weidmann's colleagues at the European Central Bank have been eagerly airing views on the policy review that will occupy them this year, the Bundesbank president has been conspicuously quiet.
The German member of the Governing Council has opinions, and likely reservations, on ideas swirling around the potential overhaul of the institution's strategy under its new chief, Christine Lagarde. But his relative silence so far on matters such as whether to change its inflation goal is probably a strong signal that he's willing to engage in dialog with an open mind.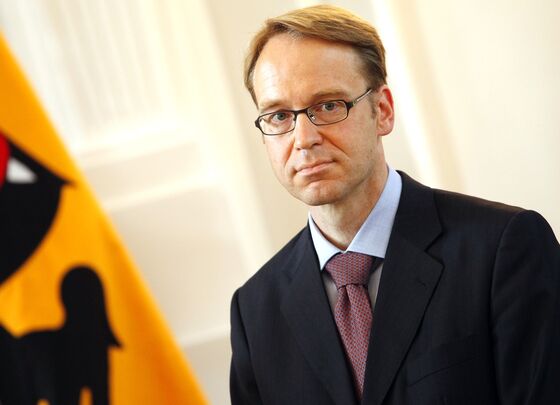 That marks a shift in tactics from years when the Bundesbanker repeatedly and publicly argued against unconventional policy moves by former ECB President Mario Draghi. The institution's change of leadership and upcoming reflection may have given Weidmann a once-in-a-decade opportunity to turn a new leaf and potentially draw a line under such disputes.
"He should get to the middle so that he influences the debate rather than push for an extreme view that's disregarded," said Stefan Gerlach, chief economist at EFG Bank AG and a former deputy governor of the Irish central bank.
The Bundesbank chief's record of opposition is lengthy. He fought Outright Monetary Transactions, the crystallization of Draghi's pledge to do "whatever it takes" to save the euro in 2012, even eventually testifying against it in court. The Italian described the attitude of Weidmann as "nein zu allem" (no to everything).
During a push for quantitative easing in 2014, Weidmann offered a honed approach that acknowledged the legality of QE but disputed the need for it. Draghi was then cited by a magazine as finding his colleague "almost impossible" to deal with. The Bundesbanker tempered his public views while vying to succeed Draghi, but opposed the Italian's final salvo of QE in September, criticizing it vocally.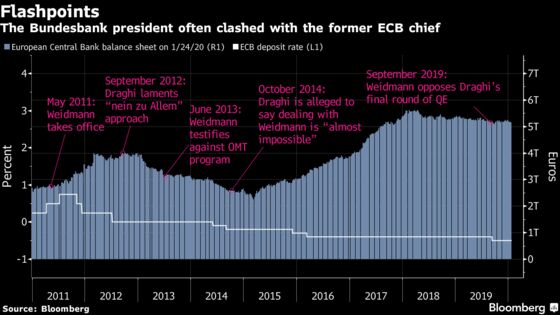 One legacy of those years of antagonism is widespread grumpiness in Germany at the ECB. Lagarde has set out to fix that, pledging to listen more to colleagues, and starting what is likely to be a period of bridge building with Germany.
Early in her tenure she and Weidmann made a public visit to a Van Gogh exhibition together. The appointment of Isabel Schnabel to the ECB Executive board has also installed an official committed to greater public diplomacy in her homeland.
In that context of warming relations, Weidmann is adopting a measured approach to the review that avoids being seen to undermine it. And while colleagues including France's Francois Villeroy de Galhau and his Dutch counterpart, Klaas Knot, have sparred publicly over ways to change the inflation goal, he has generally held his counsel aside from publicly endorsing the review.
The Bundesbanker is thought by officials to be generally content with the ECB's current aim -- keeping inflation below, but close to, 2% -- although not totally opposed to embracing change if studies or individual arguments convince.
Any adjustments in the inflation strategy would have particular significance to Weidmann. The Bundesbank's reputation for currency and price stability served as a benchmark when the ECB was established in the late 1990s. Since then, the European institution has gradually shed some of the conventional thinking that it inherited.
The Bundesbank's signature analysis of money supply was already downgraded during the 2003 strategy update, and may be jettisoned as a separate pillar altogether this time. Tolerating faster inflation to make up for weak growth of consumer prices in recent years -- as suggested by some officials -- is another idea that doesn't sit comfortably with German views.
"Intentionally higher inflation rates would not be consistent with this strategy and may pose a communication challenge and a credibility risk," Weidmann said in November, in one of his few pronouncements on the review. He mentioned climate change in remarks on Thursday, and his next chance to return to the topic of the review is a speech in Frankfurt on Monday.
For all the new sense of engagement, the stakes are high for the Bundesbank, whose role as the strict guardian of price stability is seen as primordial in a country where memories of Weimar Republic hyperinflation still resonate.
Given Weidmann's previous positions against easing, the possibility of serious disagreements on the outcome of the review remain. Future policy initiatives, for example an expansion of ECB bond purchases that breaches self-imposed limits instituted to avoid the risk of monetary financing, may also provide further grounds for strife.
Such battles may turn out to be unavoidable, but for now, the Bundesbank chief will have to rely on Lagarde's pledge in December to be as consensual as possible.
"I am not suggesting that we will arrive at complete agreement on everything, and I'm sure that the strategic review, particularly in our definition of the medium-term objectives and how we go about it, will be a source of great debate," Lagarde said on Dec. 12. "But I'm also of the view that once something has been debated at length and in depth and in honesty and with good faith, then some decisions eventually stand."