ECB's Makhlouf Says Rate Cut Isn't Warranted At This Point
(Bloomberg) -- The European Central Bank doesn't need to cut interest rates at the moment, Governing Council member Gabriel Makhlouf said, though the option remains on the table should the economic outlook darken.
"Right now, today, I don't think that's warranted," he said in an interview on Bloomberg TV. "We haven't ruled out using any of our options, including a rate cut. And when we get together in March we'll make a call. It'll depend ultimately on what is happening to the outlook."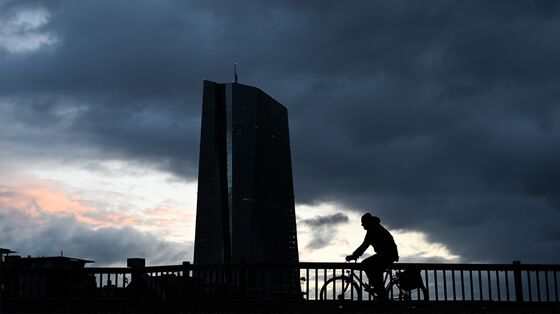 The Irish central-bank chief spoke after fresh data signaled that the euro-area economy coped with pandemic lockdowns better than expected at the end of last year. Germany and Spain unexpectedly reported growth in the fourth quarter, and French output shrank far less than predicted.
While the latest figures suggest businesses have found ways to cope with restrictions, the outlook remains gloomy. The spread of more infectious virus strains and a slow and chaotic vaccination rollout raises the risk of longer curbs and a greater need for stimulus.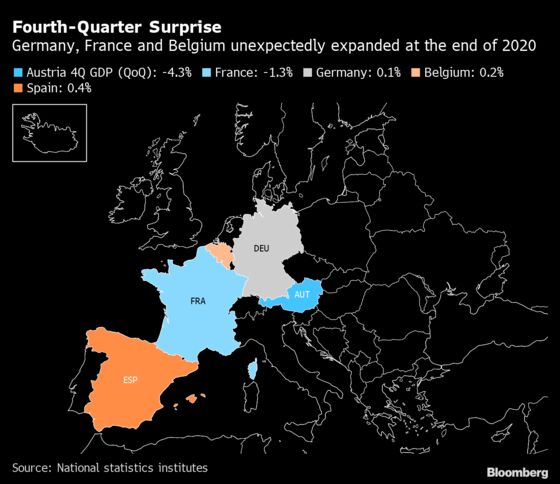 Other ECB policy makers this week invoked the possibility of more stimulus, including taking the deposit rate further below the current level of -0.5%, to counter a weak inflation outlook. One key risk is the strength of the currency, which is adding to the ECB's concerns by cutting import prices and potentially undermining export competitiveness.
"The strength of the euro is something we keep a very close eye on," Makhlouf said, adding that a rate cut could be one way to tackle it. "If we come to the conclusion that it's going to affect our price-stability objective and our overall monetary-policy stance, then certainly that's going to be an option that we would consider."
In fact, inflation unexpectedly turned positive in Spain this month, bolstered by a surge in power prices and more expensive food and beverages, according to separate figures published Friday. German prices -- reported on Thursday -- also jumped. Data for the euro area due on Wednesday are likewise set to show an annual increase in consumer prices.
What Bloomberg Economics Says...
GERMANY REACT: No Technical Recession, 1Q Dip Looking Likely
FRANCE REACT: Economy Shows Resilience, Another Hit Coming
SPAIN REACT: Activity Nudges Up in 4Q, 1Q Will Be Tougher
The ECB has said it won't react to a temporary surge in inflation, which is expected as demand returns, especially when restrictions on activities such as leisure and travel ease. The central bank has repeatedly warned against removing monetary or fiscal support too soon.
Makhlouf said he was cautiously optimistic about the economy, despite "very high uncertainty" because of the resurgent virus.
"What we can see is in the near term a weaker outlook than has been hoped for a few months ago," he said. "But, and it's a big but, assuming the vaccination programs are rolled out, we see the second half of the year as much more positive and growth coming back."