ECB's Loan Bazooka May Not Reveal True Firepower for Months
(Bloomberg) -- Want the lowdown on European markets? In your inbox before the open, every day. Sign up here.
The European Central Bank's latest stimulus action remains a sketch that could keep investors guessing for months on its true potency.
Policy makers got scant applause last week for a new batch of long-term loans for banks widely perceived as meager, but details that would help determine the measure's firepower are missing. By omitting how much liquidity is available and at what interest rate, the ECB has kept flexibility to decide later on just how much support it's ready to provide.
ECB President Mario Draghi touted the action as stimulus that should make growth in the euro zone's flagging economy more resilient. He stressed that all current measures -- including a pledge not to raise rates through the end of the year -- are "data-driven" and can be subsequently adjusted.
"The ECB essentially removed the problem of bank funding for the next couple of years, but the ultimate impact on the banking sector and the real economy will depend on the final TLTRO-III details," according to Banque Pictet & Cie global strategist Frederik Ducrozet.
Committees have been tasked to work out details, but there's no rush to produce them for the ECB's meeting in April, according to people with knowledge of the matter, who declined to be identified because such matters are confidential. Some terms could be kept under wraps until September, when the new lending program starts.
That gives policy makers scope to wait before they decide how generous to be. Some of the latest data -- including better purchasing managers indexes and industrial rebounds in France and Italy -- suggest the slowdown might ease off this quarter. The ECB cut its growth forecast steeply for 2019, but is assuming a pickup in the second half.
Policy makers have pledged to replace expiring funding for euro zone banks with seven new loans lasting two years -- half as long as other so-called TLTRO operations.
Interest due will move in tandem with the ECB's benchmark rate -- rather than the fixed rate of last time -- and will incorporate an incentive for lending. Officials are leaning toward setting the initial rate at a premium above their benchmark -- currently 0 percent -- and offering to reduce that if banks meet credit targets, the people said.
Like the last program, it won't include mortgages, according to Lithuanian governor Vitas Vasiliauskas.
The measure's short timespan, and its lack of a mechanism to protect banks from interest-rate increases, contributed to a perception of parsimony that sent the euro to an 18-month low and prompted a selloff in financial stocks.
Most euro-area lenders don't stand to benefit from the loans proposed by the ECB as conditions for comparable market-based funding are already relatively favorable, according Tom Kinmonth, a fixed income strategist at ABN Amro. He says more banks could be supported if the length of the new loans were extended, or if the interest rate were lowered to the ECB's deposit rate.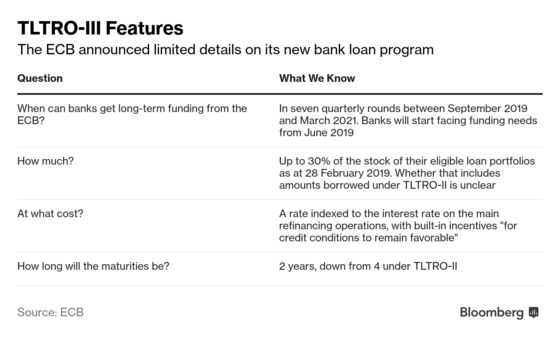 The ECB hasn't yet specified the interest rate, and hasn't defined the lending thresholds for banks to qualify for better terms. It also hasn't mentioned the collateral required, though that's unlikely to be different from previous programs.
Policy makers also need to clarify whether the amount that can be borrowed -- up to 30 percent of the stock of eligible loans as of the end of last month -- includes money allotted under the old TLTRO program, or comes on top of previous lending.
This matters in Italy and Spain, where many banks used the last facility. Ducrozet estimates that in Italy, where the measure might help counter tightening credit standards, lenders might be eligible to borrow, at most, another 40 billion euros ($45 billion) if the previous offering is included. The total could be seven times as much if it isn't counted, he says.
Banks may also want to know whether the new loans, like the old, have an option to be repaid early.