ECB's Knot Says Tools Are Available to Counter Euro Strength
(Bloomberg) -- The European Central Bank has the necessary tools, including interest-rate cuts, to prevent any further strengthening of the euro undermining inflation, Governing Council member Klaas Knot said.
"That is something we of course monitor very, very carefully," Knot, who heads the Dutch central bank, said in a Bloomberg TV interview on Wednesday. "It's one of the factors, not the exclusive factor, but one of the factors we take into account when arriving at our assessment of where inflation is going to go."
The euro extended its decline after the comments, which highlight persistent concern among policy makers over the exchange rate. The single currency was down 0.3% at $1.2126 at 11:48 a.m. Frankfurt time.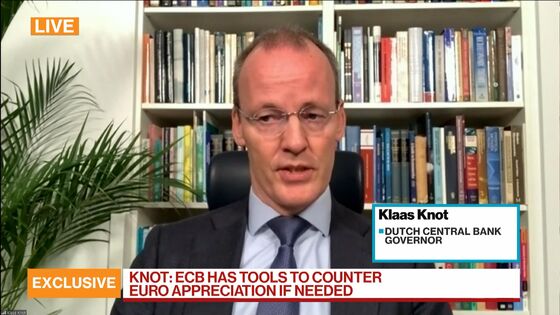 The ECB has agreed to look deeper into whether the euro's gain versus the dollar since the start of the pandemic is driven by differences in stimulus policies compared with the U.S. Federal Reserve, according to officials familiar with the matter.
The single currency gained almost 9% against the dollar last year, the biggest annual jump since 2017, and rose by almost 5% in the final two months. That puts pressure on inflation -- which is already below zero -- by cutting import prices. It can also curb economic growth by making exports less competitive.
Knot said the ECB still has the capacity to cut its deposit rate below the current -0.5% should it become necessary to act against euro strength. That rate, one of the world's lowest, has been on hold right through the crisis.
The ECB's emergency stimulus during the pandemic relies largely on a 1.85 trillion-euro ($2.25 trillion) bond-buying program and a series of ultra-cheap long-term loans to banks, known as TLTROs.
"We've explored the effective lower bound, but we haven't found it yet," he said. "There is still room to cut rates, but of course that would also have to be seen in conjunction to our overall monetary stance, which is determined by a multiplicity of tools -- asset purchases, TLTROs, forward guidance -- they all come into play."
The governor's assessment of the economy was one of "cautious optimism" where the first half of the year is still dominated by restrictions and mutations of the virus, and optimism takes hold "after the summer" when vaccinations are more widespread.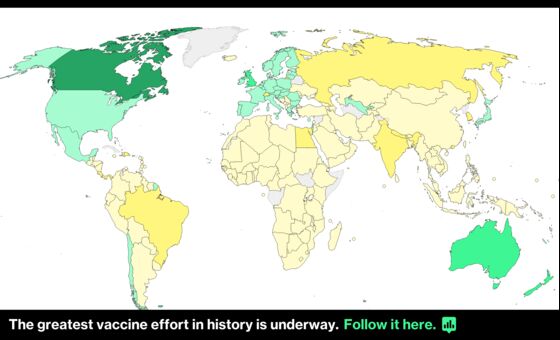 The European Union is behind the U.K. and the U.S. in terms of the share of the population inoculated, and the European Commission is in a standoff with drugmaker AstraZeneca Plc over supplies of its shot.
The economic outlook "critically depends on the vaccine rollout," Knot said. "I'm hopeful."