ECB's Knot Says Recession Concerns Somewhat Premature
(Bloomberg) -- The European economy doesn't show any signs of falling into a recession, ECB Governing Council member Klaas Knot said.
"The European economy is doing pretty well," and even though capacity utilization is high and unemployment low, this isn't leading to inflation, the Dutch central bank president said on Sunday in Dutch television show Buitenhof. "I do find talk about a crisis, even talk about a recession in Europe, somewhat premature."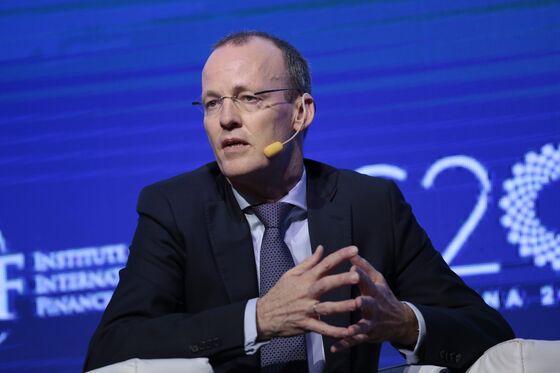 Knot said slowing growth makes sense after years of economic expansion. "We'll see a couple of quarters with somewhat slower growth, and that's mostly due to external trade, but domestic demand is still holding up in Europe," he said.
The central banker's comments follow a week in which the ECB said risks to euro-area economic growth have "moved to the downside" after a series of disappointing data from 19-nation region. Two of the top contenders to succeed President Mario Draghi also signaled they didn't know if the institution will be able to raise rates later this year.
The economic expansion in the euro area has lost its momentum as weaker growth in China and persistent trade tensions took their toll on external demand. Other major central banks are also taking a step back -- even the U.S. Federal Reserve has signaled it could pause rate hikes.
The ECB is trying to gauge how persistent the current slowdown could be and whether they need to be even more cautious about any withdrawal of crisis-era stimulus. Policy makers have already halted their 2.6 trillion euro ($3 trillion) bond-buying program and expect interest rates will stay at record lows at least through the summer.
The next scheduled rate meeting and quarterly projections will be on March 7, when policy makers may also debate providing more support. Governing Council members Francois Villeroy de Galhau and Vitas Vasiliauskas said on Friday that policy makers expect to cut their 2019 growth prediction.
Commenting on the banking industry, Knot said there are too many banks in Europe, mainly in countries like Germany and Italy. In Italy, certain loans were created in a culture where "knowing each other is a bit more important than cold analysis of the financials," he said. The country's larger banks are in a different situation than the smaller ones, performing not that much differently from the other large European banks, Knot said.