ECB's Knot Says New Lockdowns Won't Delay Stimulus Wind-Down
European Central Bank Governing Council member Klaas Knot said new restrictions in parts of the euro area to battle record Covid-19 infections are unlikely to change the planned wind-down of monetary stimulus. 
While the measures "will surely have a moderating impact on economic activity, the impact on inflation will actually be more ambiguous, because it might also reinforce some of the concerns we have around supply bottlenecks," Knot said Tuesday in a Bloomberg TV interview with Francine Lacqua.
"I don't think myself that it will have an impact on our intention to wind down the pandemic emergency purchase program," Knot said. "After all, its dual objectives have already been accomplished."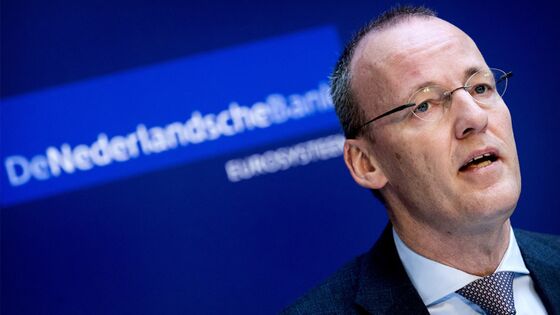 Knot spoke as the ECB gears up for a crucial meeting in December to decide on post-crisis stimulus settings. The central bank's flagship 1.85 trillion-euro ($2.1 trillion) pandemic bond purchases are set to expire in March. 
His comments echo those of ECB Executive Board member Isabel Schnabel, who said in a separate Bloomberg interview published Tuesday that the plan to let emergency buying lapse as planned "is still valid."
Officials must also determine whether to ramp up regular asset purchases to ease the transition, and to what extent they should retain some of the flexibility that characterized their response to the pandemic to address fragmentation on sovereign-bond markets.
Knot pointed out that the emergency program, known as PEPP, "will not end in March."
"Only the net asset purchases will end," he said. "We will have a significant reinvestments challenge ahead of us and we've already committed that we will reinvest at least until December 2023."
Knot said that flexibility within PEPP "has served us quite well."
"We will have to migrate that flexibility also to the reinvestment phase in order to prevent undue fragmentation," he said.