ECB's Hansson Stays Optimistic on Economy With Rate Hike in View
(Bloomberg) -- The euro-area economy is still evolving roughly in line with the European Central Bank's outlook and its guidance that it might raise interest rates later this year, said Governing Council member Ardo Hansson.
"We seem to be on a trajectory, the same trajectory that we forecast some quarters back," Hansson told Bloomberg on the sidelines of an event in Riga, Latvia, late Monday. "For every bit of bad news, you get a bit of better news, and on balance I don't see this creates risks that shift the balance of risks."
Hansson, who confirmed his view after a slump in German industrial production raised the prospect of a recession in Europe's largest economy, argued that euro-area jobs data have been "unexpectedly positive."
"Once the labor market tightens, wage pressure increases," he said. "Eventually, that will spill over into prices and create a firmer basis for inflation."
The ECB predicted in December that consumer-price growth would average 1.6 percent this year, before climbing gradually toward the central bank's goal of just under 2 percent. Policy makers decided at that time to cap asset purchases, taking the institution one step closer to unwinding unprecedented stimulus.
"Each successive forecast is more or less confirming the previous forecasts," he said.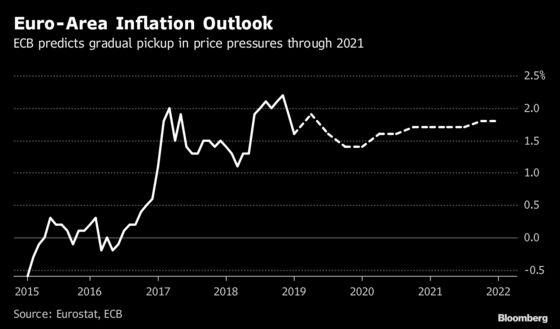 Hansson signaled that a pledge to keep interest rates at present levels "at least through the summer" -- implying a first potential hike as early as September -- may still be realistic. Markets have postponed their bets amid deteriorating economic indicators.
"As we go forward, you just have to see whether the incoming data confirm those expectations," he said. "If we're largely on track, if the data confirm those expectations, then that forward guidance might prove to be rather precise."
If economic news turn out "materially better or materially worse, then you have to reassess," he said, "and then at some point come up with a different message."