ECB's Hansson Sees Wages, Equipment Shortages Driving Inflation
(Bloomberg) -- Euro-area wage growth is finally accelerating, and that's not the only factor promising to drive up inflation, according to European Central Bank policy maker Ardo Hansson.
A shortage of equipment is also placing constraints on companies' production, the Estonian central-bank governor said in an interview in Bali, Indonesia. Those pressures should help jumpstart price growth as companies seek to recoup the additional costs of taking on more staff and investing in machinery.
"Labor-market developments are very convincing," Hansson said on the sidelines of the International Monetary Fund meetings. "If you also have a lot of companies complaining about a lack of equipment, there must be capacity constraints -- both in capital and in labor -- that has to be building up somewhere."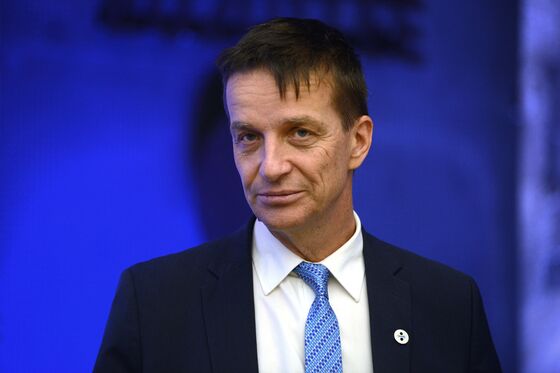 These trends "should spill over eventually into core inflation," he added. While headline price growth in the region has hovered around 2 percent for the last five months, boosted by energy prices, the ECB has struggled to revive pressures in the underlying rate.
Read more: ECB's Hansson Is 'Happy' With Estonian FSA Actions on Danske
Officials are preparing to cap their 2.6 trillion-euro ($3 trillion) bond-buying program by the end of the year. While investors have speculated on how the ECB might use its policy of reinvesting maturing assets to provide continued support, Hansson said there's no "pressing reason" to clarify this in the near future.
He also said there's no rush to tinker with the guidance that interest rates will stay at current record lows at least through the summer of 2019.
"I think it's premature now to start already communicating about that beyond just doing technical work," he said. "Once we've gone to zero net asset purchases that will obviously be an issue about whether we want to somehow re-calibrate forward guidance, but right now I think it's quite okay."
Hansson's ECB colleague Olli Rehn, the head of the Finnish central bank, said at the IMF meetings that the euro zone still needs "significant" stimulus to cement price growth, and that officials would keep all their new tools ready for the next downturn.
"The unconventional monetary policy measures and instruments which were used during the crisis years -- and the ECB, for one, is still using -- will stay permanently in the toolbox," he said in remarks published by the Finnish central bank. It's critical "to ensure that the monetary policy toolbox is sufficient when the next recession hits."