ECB's Guindos Calls for Tighter Oversight of Asset Managers
(Bloomberg) -- The European Central Bank's vice president warned asset managers that they'll face tighter scrutiny as regulators try to steer against future financial crises.
The ECB has grown increasingly vocal about the risks stemming from a rapid expansion of entities such as investment funds, which are taking on more bank-like tasks such as providing liquidity but which are regulated more lightly than commercial lenders.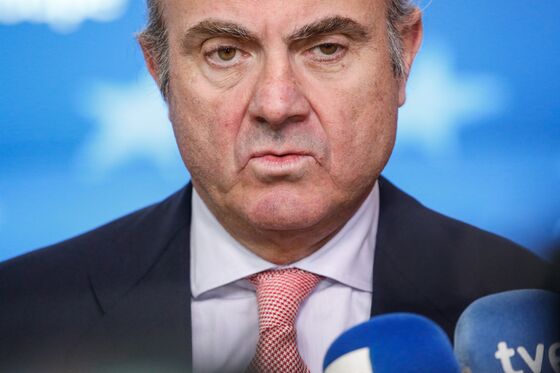 Luis De Guindos said that including asset management in the ECB's macroprudential framework -- a set of financial-stability tools, separate to its monetary-policy instruments -- will be an "important step in preparing for possible future stress scenarios."
"Now that the banking sector is shrinking and becoming more resilient, our radar is shifting to the non-bank financial sector," Guindos said at the opening of the Euro Finance Week in Frankfurt. "The tectonic shifts in the structure of the financial system brought about with the rise of asset management call strongly for further policy work."
President Mario Draghi said in September that there needs to be "equally strong" regulation and supervision for so-called shadow banks -- a term Guindos said global regulators will no longer use because of its "pejorative connotations." Instead they'll be called "non-bank financial intermediaries."
The vice president, who is responsible for financial stability at the ECB, also said investors are increasingly using exchange-traded funds to gain exposure to less-liquid markets. He said those ETFs may struggle if there is any sudden repricing in markets.
"We have strong indications that liquidity risks are building up in the fund sector. The share of less-liquid assets in that sector has been growing constantly since the global crisis, while liquidity and cash buffers have been declining," Guindos said. "I am seriously concerned about declining market liquidity and the role that investment funds might play in a possible stress scenario."
While noting a recent recommendation by the European Systemic Risk Board that addresses the potential risk of liquidity mismatches and leverage in investment funds, Guindos said more must be done. Macroprudential authorities need tools to prevent the build-up of vulnerabilities in the industry such as requirements for minimum liquidity buffers and redemption notice periods, he said.
"I call for further investigation of the case for bringing investment fund supervision and the potential activation of macroprudential tools to the European level," Guindos said.