ECB Risks Italian Friction in QE Review of Euro Economies
(Bloomberg) -- Italian populists might soon have a new grievance to wield: tweaks to the European Central Bank's stimulus settings could be about to penalize the nation for its poor economic growth.
The ECB will review its capital key, a measure of economic heft that determines how its 2.6 trillion-euro ($3 trillion) bond-buying program is divided among euro-zone nations. Bloomberg Economics calculates that the changes could mean purchases of Italian bonds drop by 750 million euros next year, with those of Germany climbing by 1 billion euros.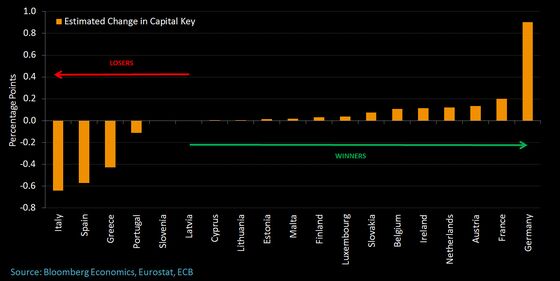 While the numbers are small -- dwarfed by Italy's need to refinance 338 billion euros of borrowing in 2019, for example -- any perceived reduction in central-bank support could bolster the government's argument that it needs more spending despite its hefty debt burden. Italy's stance has so far put it in conflict with the European Union, and pushed bond yields higher as investors fret over the sustainability of public finances.
The fundamental problem for Italy is weak growth since the last review of the key in 2015, when Lithuania joined the euro. The measure -- originally designed to decide how much of the ECB's capital each government should provide -- is based on the size and population of individual economies.
While the Italian government is assuming stronger growth from next year because of its spending plans, the European Union warned on Thursday that the expansion will be weaker than projected and that the country's debt mountain may start rising again.
Germany's economy was almost 15 percent bigger on average in the five years to 2016 than in the five years to 2011. Italy's economy grew by less than 2 percent over the same period.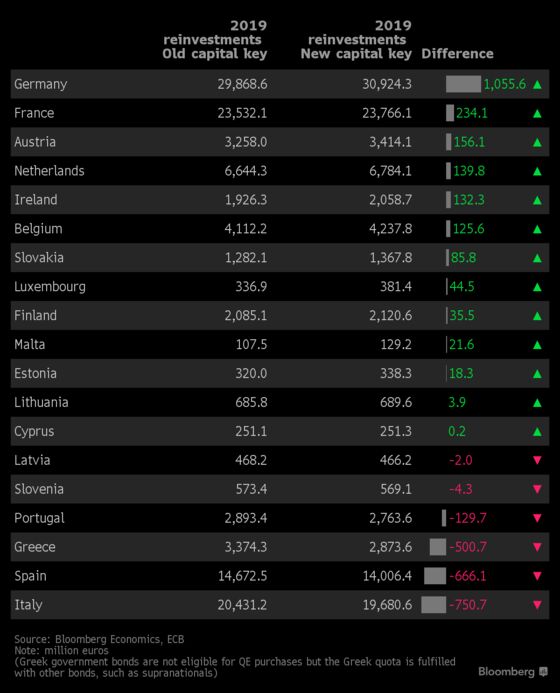 The ECB has to tread carefully. It intends to cap quantitative easing at the end of December but will keep reinvesting the proceeds of its holdings as they mature, making it an important marginal buyer in Italy. At the same time, it's not allowed to set monetary policy for the benefit of a single nation.
The central bank is aware of the communication risk and aims to adjust purchases to the new key with minimal market disruption, according to euro-area officials familiar with the matter, who asked not to be identified because the issue is still under review. An ECB spokesman declined to comment.
What Our Economists Say:
"Changes to the capital key could prompt a political squabble, but won't radically alter how much stimulus is delivered to Italy. Higher bond yields are already damping the impact of ultra-loose ECB policy on the economy -- ending the budget standoff with Brussels should be the government's main priority."

-- Jamie Murray, Bloomberg Economics
ECB President Mario Draghi has pointedly warned his homeland of the risk of breaking EU budget rules, and has noted signs that higher borrowing costs are starting to feed through to companies and households.
He also said last month that he'd be "surprised" if bond purchases were to be guided by anything other than the capital key, suggesting that policy makers aren't minded to simply ignore the adjustment.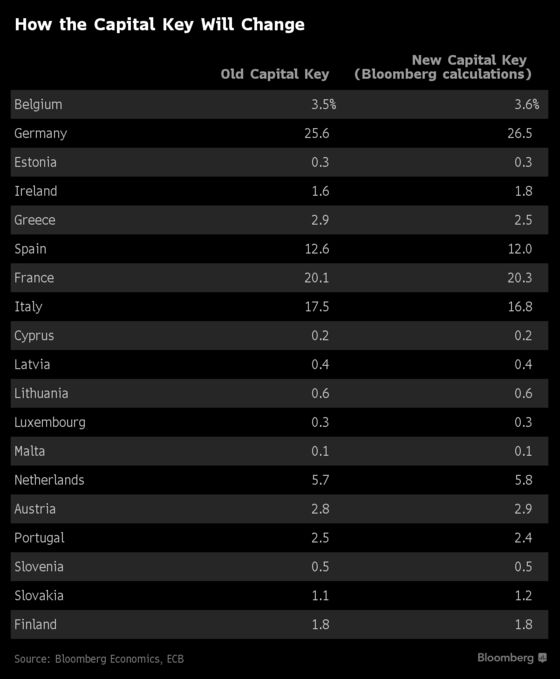 Claudio Borghi, the euroskeptic head of the budget committee in Italy's lower house, has said the ECB should step in to help curb yields. Senator Alberto Bagnai from the nationalist League said last month that Draghi's comments were "inappropriate."
Deputy Premier Luigi Di Maio was blunter.
"We are at a time when we have to support Italy and I am surprised that an Italian is poisoning the climate further this way," he said.