ECB Rate-Cut Bets Fade Into Obscurity on Global Growth Outlook
(Bloomberg) -- The increments may be small, but money-market traders are pricing rate hikes in Europe again.
The European Central Bank's deposit rate will rise by over one basis point in twelve months' time, Eonia swaps show. That's the highest reading in more than two years and a far cry from six months ago, when the market was positioned for 10 basis points of easing.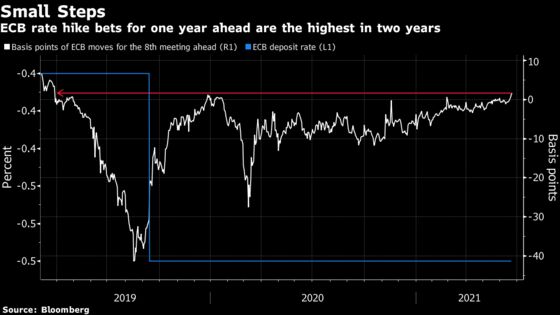 The shift in expectations is being fulled by optimism over the economic recovery, with prices in the region rising at their fastest pace since 2018. It also reflects the quicker path of tightening signaled by the Federal Reserve last week, which is putting upward pressure on rates markets globally.
While money market traders haven't erased rate-cut bets completely -- with less than a single basis point of easing seen at the next two policy meetings -- the latest pricing is a sea change for a region that's been mired in below-target inflation for years.
In the ECB's latest meeting, President Christine Lagarde stressed that the recent spike in prices was transitory. This week, she said the policy maker has room to cut rates if needed.
The ECB's deposit rate has remained at 0.5% since September 2019, when former President Mario Draghi slashed borrowing costs to help stoke inflation and growth.