ECB Profit Rose in 2018 as Bond Buying Bolstered Interest Income
(Bloomberg) -- The European Central Bank's profit rose in 2018 thanks to more interest income from the bonds acquired as part of efforts to boost inflation and its dollar portfolio.
Net profit increased to 1.6 billion euros ($1.8 billion), up from 1.3 billion euros the year before, the Frankfurt-based institution said on Thursday. The large-scale asset-purchase program brought in 820 million euros, while the fees charged for supervising lenders amounted to 518 million euros.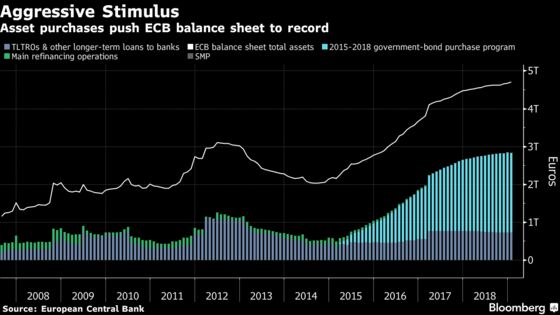 The ECB amassed 2.6 trillion euros worth of assets before halting purchases last year. It has committed to keeping interest rates at their current record lows at least through the end of the summer. With Italy in recession and the German economy stagnating, central-bank watchers are betting officials won't increase borrowing costs until 2020.
In 2018, interest income from Greek government bonds bought under the Securities Market Program dropped to 127 million euros. The nominal value of the entire SMP portfolio amounts to 74.3 billion euros, with an average remaining maturity of 1.7 years.
On the expenses side, total staff costs and administrative expenses declined to 515 million euros.