ECB Profit Drops on Dollar Assets, Expiry of Older Bonds
(Bloomberg) -- The European Central Bank's profit declined in 2020 as interest income from foreign-reserve assets dwindled and bonds under an old purchase program expired.
Net profit fell to 1.6 billion euros ($1.9 billion) from a record 2.4 billion euros the year before. The decrease reflects lower income from the ECB's U.S. dollar portfolio and the Securities Markets Program as a result of redemptions, according to a statement.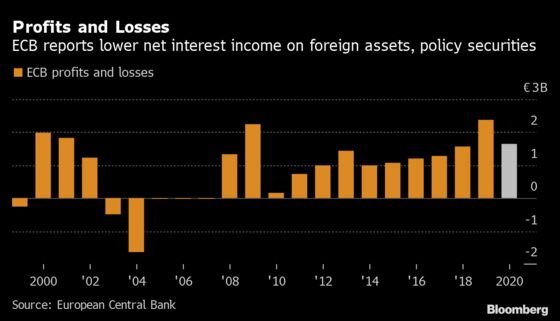 The coronavirus pandemic forced the ECB into providing unprecedented monetary stimulus last year. Bond buying by the Frankfurt-based institution and its national counterparts totaled more than 1 trillion euros, and another 1.6 trillion euros were lent to banks for three years at extremely favorable terms.
The ECB's balance sheet grew to 569 billion euros last year. The balance sheet of the entire Eurosystem, comprising the Frankfurt-based ECB and the 19 national central banks of the euro zone, jumped to almost 7 trillion euros on pandemic stimulus programs.
President Christine Lagarde has promised that money will keep flowing to help the economy recover from its biggest slump in living memory. Output isn't expected to reach pre-crisis levels until 2022.
With bond prices across the region close to record highs and the bank loans damping interest income, some central banks have warned that the ECB's policies will depress earnings this year. Estonia predicted a loss of 10 million euros.
Central banks are unlike private-sector companies because they can absorb losses that technically wipe out their capital. Still, lower earnings mean they have to cut their payouts to governments.
The ECB's Governing Council made an interim payment of 1.3 billion euros to national central banks at the end of January and will transfer the remaining 383 million euros this week.