ECB Under Pressure as Inflation Slows More Than Forecast
(Bloomberg) -- Euro-area inflation eased more than expected in May, piling further pressure on European Central Bank policy makers as they assess a deepening slowdown and the need for stimulus.
Consumer prices rose 1.2% in May, dropping back to the lowest in more than a year, from an Easter-boosted 1.7% pace in April. The core inflation rate fell to 0.8%, with both figures coming in below the median estimates of economists.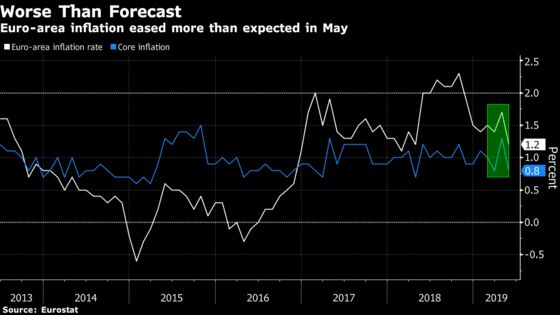 The latest unwelcome development comes as ECB policy makers prepare to meet to debate the appropriate amount of stimulus for the economy. On Thursday, they'll unveil a fresh growth and inflation forecasts for the 19-country region, and are expected to release further details on a planned batch of long-term bank loans to grease the wheels of the economy.
The backdrop is looking increasingly grim, with trade tensions damping confidence, hitting manufacturing and growth around the world. Concern about the outlook has pushed German 10-year bund yields to a record low, while a market measure of euro-area inflation expectations has plunged to the weakest since 2016, when the ECB was pumping 80 billion euros ($90 billion) a month into the economy via its QE program.
What Bloomberg's Economists Say

"The decline will add to concern among policy makers at the ECB about inflation remaining 'uncomfortably below' target. Still, we expect the ECB to focus on signs that underlying price pressures are gradually building when it meets on Thursday."
--Maeva Cousin, euro-area economist
Click here to read the report
The euro was little changed against the dollar after the report was published. Germany's 10-year yield was at -0.21%. It's been below zero since early last month.
Some policy makers have expressed concern that price pressures remain "uncomfortably" low, according to the accounts of the ECB's April meeting. While the central bank's mandate, is for an inflation rate just below 2%, that goal has proved elusive despite unprecedented stimulus measures including the purchase of nearly 3 trillion euros worth of assets.
While the ECB has committed to keeping interest rates at rock-bottom at least until the end of this year, feeble inflation could spur calls for officials to double down on stimulus.
Such a step wouldn't be warranted, according to Bundesbank chief Jens Weidmann, who said last week that the economic situation was still "favorable." Some also expect an improving labor market to keep fueling wage pressures and, ultimately, inflation.
Unemployment in the euro area continued to inch lower in April, according to a separate report on Tuesday. It slipped to 7.6% -- the lowest since August 2008 -- from 7.7% in March.