ECB Ramps Up Bond-Buying Speed to Contain Rising Bond Yields
(Bloomberg) -- The European Central Bank pledged to ramp up buying government debt in coming months in a bid to a contain rising bond yields that threaten to derail the region's economic recovery.
Policy makers expect purchases in the next quarter "to be conducted at a significantly higher pace than during the first months of this year," according to a statement on Thursday. They kept the overall size of the 1.85 trillion-euro ($2.2 trillion) pandemic bond-buying program unchanged.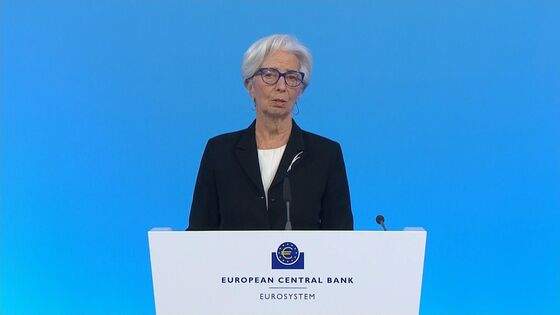 Follow the press conference on our live blog
The enhanced spending commitment was added after a jump in global government bond yields driven partly by the speedy U.S. economic recovery from the pandemic, which has boosted inflation expectations. That's a risk to the euro zone, as those yields are used as a reference for the cost of bank loans to companies and households.
"Increases in these market interest rates, when left unchecked, could translate into a premature tightening of financing conditions for all sectors of the economy," President Christine Lagarde told reporters during an online press conference. "This is undesirable."
What Bloomberg Economics Says...

"The ECB has taken action to address rising bond yields, saying asset purchases will be stepped up in the near term. That's a relief after data at the start of the week showed the ECB had not intervened."

-Maeva Cousin. To read her report, click here
The decision to more directly grapple with the pricing of government debt opens a new chapter in an already fraught relationship with bond markets that have long troubled ECB presidents, not least since the region's sovereign crisis struck more than a decade ago. Last year, a remark by Lagarde on spreads rocked debt markets by appearing to undermine previous pledges to defend the integrity of the euro zone.
The euro pared an earlier advance and was up 0.2% to $1.1950 after Lagarde spoke on Thursday. European bonds held gains, with Italy's 10-year yield falling nine basis points to 0.58%
German 10-year bond yields, seen as the benchmark for Europe, have climbed around 20 basis points since the start of February. Still, the premium demanded by investors to hold Italian debt over Germany, a key risk gauge for the region, has fallen by a similar amount over that period, alleviating one key source of concern for the ECB.
While the U.S. has made rapid progress in vaccinations and has passed a $1.9 trillion fiscal stimulus package, the euro area has been slower with inoculations and its spending plans are smaller. Extended virus lockdowns mean the economy is on course to contract again this quarter, Lagarde said.
"Ongoing vaccination campaigns, together with the gradual relaxation of containment measures -- barring any further adverse developments related to the pandemic -– underpin the expectation of a firm rebound in economic activity in the course of 2021," she added.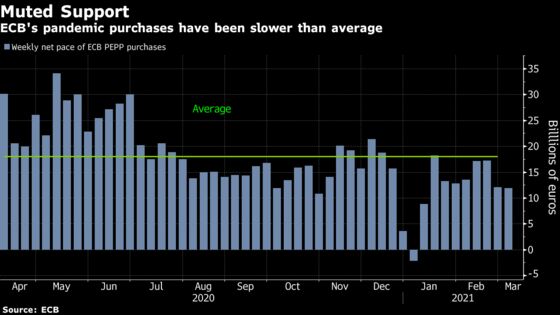 Central banks from Australia to the U.K. have tamped down talk of rising interest rates and inflation, focusing instead on the risks. The ECB's early response had left investors unimpressed after some conflicting signals by officials.
Lagarde sought to clarify that effort on Thursday by specifying what policy makers are looking at when examining market moves.
"Preserving favorable financial conditions over the pandemic period remains essential," she said. "Financing conditions are defined by a holistic and multifaceted set of indicators, spanning the entire transmission chain of monetary policy from risk-free interest rates and sovereign yields to corporate bond yields and bank credit conditions."
New forecasts Lagarde revealed on Thursday were similar to the institution's last projections released in December, with officials foreseeing growth of 4% this year and inflation that never exceeds 1.5% in any of the coming years.
Beyond the near term, however, risks to the outlook are more balanced than they were, according to Lagarde.